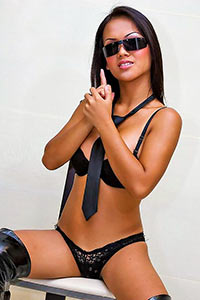 Here's a photo gallery for the fantasy life brought to you by Ladyboy 69. Imagine you've been arrested and are in the interrogation room waiting for someone to come take your statement and hear your side of the story. In walks a beautiful Asian ladyboy named Amy. She's wearing a tight blue top tied under her ample breasts, a short flirty skirt, black panties and thigh high leather boots. She looks like the embodiment of every police related sexual fantasy ever. She sits in a chair across from you and gives you a naughty smile, signaling that this interrogation is going to be unlike any other.
First she tosses her hat away, preferring to let you gaze at her long flowing hair. Then she shows off her boots by crossing and uncrossing her legs. They're long and luscious and you're hard pressed to look away. The skirt is relatively flimsy and she lifts it with ease, showing off her sexy black panties. Then she turns up the heat by taking off her top and displaying her tits in their tight bra. Even in her underwear and boots she looks authoritative. This is a girl that could play the role of in charge domina anytime. Finally she's down to just her boots and her ladyboy cock looks stunning.
Visit Ladyboy 69 to see the full set of a naughty police officer, ladyboy Amy.