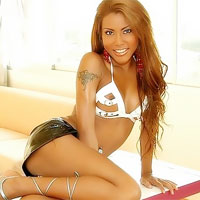 Areeya plays with dildos. How do You like that? I know from your comments that ladyboy Areeya is one of your favourite ladyboys at LB69. So, i am sure you will love this new Areeya's gallery where she experiments with different anal toys. She slowly undresses for You, showing her gorgeous ladyboy's body, then gets a vibrator.
First Areeya licks it all over, then puts it on a table and sits on it until her sweet ass takes it fully. She then starts moving up ad down, stroking her tits and dick, and oh my, it looks so exciting.. I guess Areeya is having a nice time fantasizing about your cock in her ladyboy's ass.
All in all i think it's a nice gallery to jerk off too. Go see it now. You will also see ladyboy Areeya sucking on a huge fat pale dildo and inserting it into her ass.
Have a nice time!