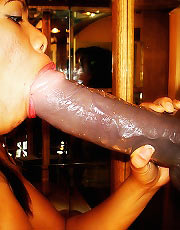 When i saw this picture for the first time, I thought, what the hell, this is really a huge ebony cock and there's no way a tranny can take it! I quickly opened a gallery and it appeared that a tgirl was playing with a dildo. But wait, i haven't seen this girl before. Who was she?
The girl's name was Nikki and she recently opened her personal solo site NikkiTSFun (no wonder i haven't heard of her before). She is originally from Philippines, but now is living in CA. And what a hottie she is! What a sweet face. What lovely tits! And that little sexy skirt leaves you craving to see what's under it. There's no holding back and you gotta see her toying herself with this enormous black dong. Although it does not fit in her ass, that was a nice try. 🙂
And guess what? I loved Nikki so much that I have actually contacted her and when she learnt that I run this blog she got very excited and even promised me an interview! So if you want to ask her something, feel free to post your questions here and i'll pass them to her. Also, she promised me some true life stories of her erotic adventures which i am also looking forward to reading. Stay tuned guys and soon you'll see more of this awesome tgirl!