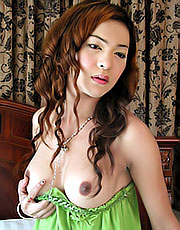 Ok, i might be embellishing a little, but look at picture 10 of this gallery! She can reach and almost fuck her ass with that cock! And besides a nice cock, she's a beauty herself. When you see her lying on a bed you can't wait till she takes off her blouse and jeans and shows her cock.
But first you're going to adore her tits. They are of a meduim size and look very natural and feminine. Wouldn't you love to suck her nipple (as on pic # 6) while feeling and groping her cock which just starts to get hard. They you would retract that swarthy penis skin from her tender pink head and take it in your mouth.
Check out other cool ladyboys they have at Ladyboy-Ladyboy. It's one of the oldest sites and they surely have lots of stuff to jerk off to.