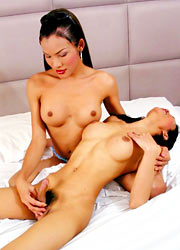 I have found this gallery of two ladyboys having sex (from My Ladyboys site) and i fell in love with it. It's a hardcore gally of two ladyboys having sex with each other, which by itself is rather rare thing to find. To be honest i'm not sure if the second participant is a tgirl, since we don't see her dick in this gallery. You'll see her pushing towards the gorgeous ass of a second cute tgirl, and this is about it.
What IS so great about this gallery, is that love and passion you can feel watching it. Just look at the way this chick holds a dick of a ladyboy. She gives it so much loving and tenderness that i can only envy i am not there to offer my dick to her to hold. She holds it as careful as a precious stone, and the second tgirl is indeed enjoying it.
Besides the fact the ladyboys are really beautiful and very hot looking, they evidently enjoy making love to each other. I just loved the way they caress each other, and i hope so will you. Have a nice jerk off and remember to check out other asian transsexual chicks at My Ladyboys.