The long awaited tour of Nikki to Brazil has begun, and she's already arrived to Sao Paulo. Those of You who talked to her lately know that she has at least 13 shots set up in Brazil with brazilian shemales, famous and not, that means we shall expect some new hot stuff on her site soon. Imagine 8 sets of huge brazilian ts cocks surrounding poor little Nikki, this is not something you would miss the opportunity to see!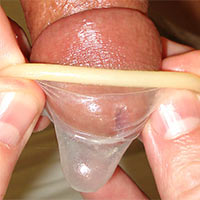 Anyway, while she's there and we're here, why don't we drool to one of her previous sets in which she's teasing a guy who came to co-star with her. You know, it's against Nikki's rules to let guys top her, so the only action he can count on is to lick her crotch and to rub his cock against her testicles…
After that he helps her put on a condom and spreads his buttcheeks waiting for her rock hard pumping cock to penetrate his hole.