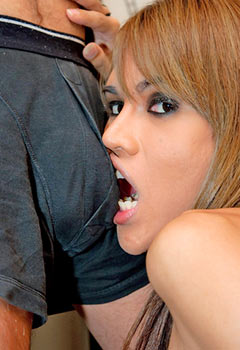 Ladyboy Mint is going the kinky route today and it's a welcome thrill. This beautiful ladyboy model is known for her big cock and with good cause. It's easily the longest dick in the world of ladyboy porn and she wields it expertly. In today's tasty gallery she gives us a sensation of domination by posing in a black latex bustier and very sexy black latex boots that go up to the thighs. Are you thinking about how good she would look in an outfit like that? One click and you're there.
In the first four pictures we see her posing solo and the angles are spectacular. There's a great shot of her turned around and flashing her ass at the camera and that's pretty damn spectacular. There's also a full body shot where you can see her legs crossed in a highly suggestive manner. Those black latex boots on her ladyboy stems are spectacular. After the solo shots Long Mint is joined by a gentleman admirer and it's pretty rare for her to do hardcore scenes so the gallery is uniquely wonderful for that reason.
I don't know about you but for me the best picture is the one where Mint is on her knees before the guy and she licks and sucks on his big stiff dick through his boxers. When you see that picture how can you not imagine getting sucked off by this hot ladyboy? You also get two pictures of him fucking her ladyboy asshole, including a terrific doggy style scene. The missionary might be even sexier though, especially when you consider the look on her face as she gets pumped.