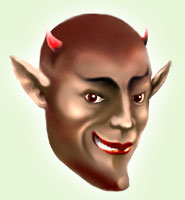 Do you remember my promise that our shemale blog will have his his own character? Well, let me introduce you him.
Meet Ladyboy Devil, AKA Lucifer, AKA Shemale Sex Lover 😉 This cute but horny creature will be the moderator of our shemale blog. He loves shemales and he's obviously proud of that!
If You think You know a better name for him than Ladyboy Devil, please post your comments to this blog.