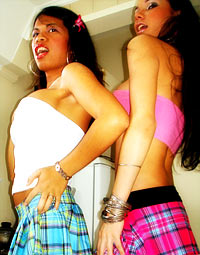 As You know, ladyboy star NikkiTSFun and her husband are in Brazil now, shooting new sets with Brazilian tgirls for their site. And, i must add, they're doing nice job, only on April 14-th there were 5 new sets added. Now here is a great way to never miss anything that Nikki does for years to come! Here's the message that Nikki posted for her site's members:
Life Time Memberships
It's simple…we spent all of the money we have made from the site to get down and set up in Sao Paulo, Brazil …I have enough for 10 shoots…but want to shoot as many as I can…and am asking for your help… The cost to shoot a scene with a Brazilian Tgirl or Girl is $300 US Dollars. If you would be interested in Sponsoring a shoot we will give you "Life Time" membership to our site.
If interested, You can contact us at Nikkitsfun@yahoo.com or Yahoo Messenger: Nikkitsfun
If you like what Nikki does and want to see more hot pictures with her, you may want to get in touch with her and Mike, and maybe you can work something out together.