Ladyboy Gloryhole is a combination of wonderful things. They bring in the most beautiful, sexy, and arousing Asian shemales possible. Then they put them in a bathroom with a big gloryhole cut in the wall. On the other side of the hole is a black man with a big cock and these sluts are going to suck that dick and get fucked by it, making themselves available for screwing at the leisure of the ebony gods. The previews alone are arousing, especially when you see the big black dicks fucking the tight assholes. These petite ladyboys get stretched!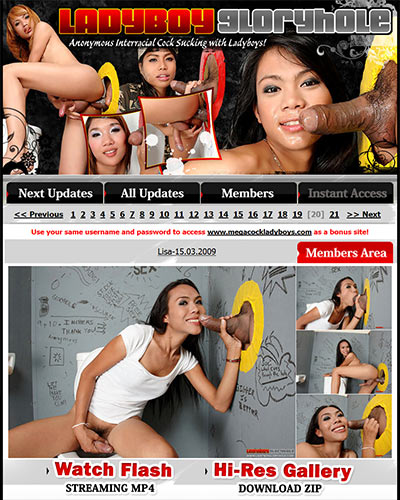 Now, to the members area. It turns out the tour is not a perfect representation of what actually happens inside. If they call the site Ladyboy Gloryhole then they should have gloryhole content, right? As it turns out, less than 30 of the 121 scenes inside feature gloryhole sex (I might have missed a few gloryhole videos, so that number could be a little higher, but it's not going to be much higher). Everything else is just regular ladyboy sex. That's certainly not a bad thing but it's also not what You would hope to find inside.
If you go way back to the earliest content you'll find the actual gloryhole stuff. I assume they just got tired of producing this kind of content. Maybe it was because there's only so much their ladyboys could do with a gloryhole and the members of the site wanted to see ladyboys fucked in other places. The videos can be downloaded at 1280×720 or streamed in their Flash player, which works well. There's a high resolution picture gallery as well, although the script they use for browsing is not the best one I've seen in my life. Downloads are fast and the videos look crystal clear thanks to a good camera and someone with skill operating it.
When they do actual gloryhole content at Ladyboy Gloryhole it's wonderful. It's everything they show on the tour and it's so unique that it's impossible not to get excited about what they're doing. Where else are you going to find smut like this? The ladyboys get into the bathroom and usually play with their dicks a little bit. Then the cock comes through the hole and it's big and black. They look a little surprised or frightened at first and then they go to work, sucking lustily and bending over and pushing their asses against the gloryhole so they can get fucked like the dirty sluts that they are. Few ladyboy porn sites I've visited have delivered such excellent content.
[flashvideo filename="http://www.transladyboy.com/videos/ladyboy-gloryhole.flv" image="http://www.transladyboy.com/videos/ladyboy-gloryhole.jpg" linkfromdisplay="true" link="http://www.transladyboy.com/go/ladyboygloryhole" width="480″ height="298″ streamscript="lighttpd" /]
The rest of the content (three quarters of the site) is a mixture of ladyboy hardcore adventures. There's a fair amount of ladyboy on ladyboy fucking, lots of dudes fucking ladyboys, and more. The hardcore content is the same level of quality and perhaps that's the best reason to join this site. Ladyboy Gloryhole delivers some of the best hardcore ladyboy sucking and fucking you're ever going to see. They hire gloriously beautiful babes with hot bodies, they show them doing anything and everything dirty, and it's all filled with wild passion.
Members of Ladyboy Gloryhole also get access to Mega Cock Ladyboys, which has softcore and hardcore ladyboy sex. The general theme is that the ladyboys have big dicks, and they tend to stick to that. Most have large cocks and since their bodies tend to be really small even an average dick looks pretty big. Just imagine how great a really big cock is going to look! The ladyboys either masturbate or get fucked and the majority of the content is masturbating.
Ladyboy Gloryhole has one glaring issue: most of the content on the site is not gloryhole content. Early on that's all they produced and then they started doing whatever they wanted, regardless of the site's theme or what the tour promoted. That's really annoying, especially since their original idea was so unique. Now you get roughly 30 gloryhole scenes (which are, however, truly awesome) and 90 scenes of other hardcore types. The strength of the site is that everything is done really well. They get kudos for that and with the bonus site it's actually a pretty good deal to join up and have some fun with these slutty ladyboys.