They have this rotating image thing at the top of the tour page for Ladyboy Player and there are 12 pictures in it with new ones being shuffled in all the time. It's a nonstop slideshow of ladyboy porn and without seeing anything else related to the site I know that I'm going to have a good time because those pictures are really fucking hot. There's one of a huge ladyboy cock that was shot from below and it looks utterly magnificent. I had visions of wrapping my lips around that dong the moment I saw it and I love a site that inspires those kinds of naughty fantasies.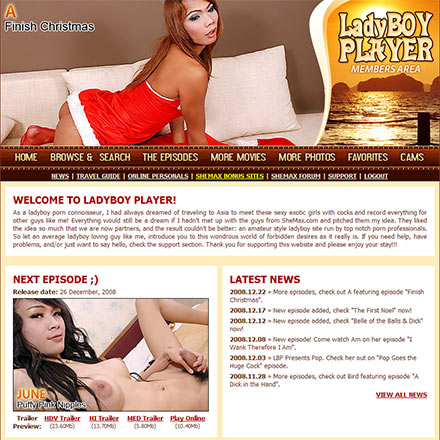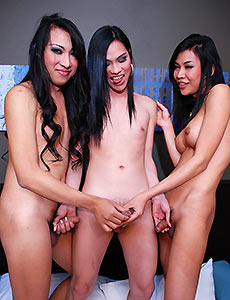 Ladyboy Player is named after Rafe, the guy that spends his time in Asia searching for ladyboys to make hot porn with. The idea was to create an amateur style ladyboy site but have it be run by porn professionals so you would feel like you were getting your money's worth when you invested in a membership. You can check out trailers from some of the most recent updates on the tour and they even offer them in high definition just to prove that quality is their only concern where the members are concerned. It looks pretty good so far. Let's get inside and see what everything really looks like.
The member's main page is pretty well organized if a little busy. There's so much stuff listed you might find it a touch overwhelming at first. Don't be discouraged though; move forward and you'll find a beautiful collection of stunning ladyboy porn waiting for you.
They tease you with the next episode right at the top of the page, even going so far as to offer a downloadable trailer so you'll keep your membership active for another month. Browse the rest of the page and you'll see the three most recent scenes as well as the bonus videos, picture galleries and sites. Thankfully there's only one ad for a shemale webcam site.
The episodes are where you'll find the exclusive content and so far they've added 95 of them. It's an impressive collection that typically grows every 4-5 days when they upload a new one. If you don't want to browse the content by date you can check out the search page where they let you type in a keyword, check out the top rated scenes, browse by model name or look through the hot ladyboy porn by keyword.
[flashvideo filename="http://www.her-dick.com/videos/ladyboy-player.flv" image="http://www.transladyboy.com/wp-content/uploads/2008/12/ladyboy-player-anal.jpg" linkfromdisplay="true" link="http://www.transladyboy.com/go/ladyboyplayer" streamscript="lighttpd" /]
There were so many choices but I couldn't resist going with anal sex first. I wanted to see a hot ladyboy fucked up the ass and they delivered with 15 hot scenes featuring hot butt banging. The coolest part of the anal sex sets was how big the guy's dick was. I don't know if the dude fucking in every scene is Rafe himself, but his dong is enormous, especially when sliding into the relatively tiny ladyboys. Their assholes are stretched wide and they just lie there stroking their dicks and moaning like good sluts. It's everything you'd want a ladyboy lover to be.
With each scene they provide multiple content options. First there are the low and high resolution picture galleries (1300px and 800px, respectively). They look good and act as a great primer for the porn that you're going to download.
The videos come in high definition and three other resolutions if you care for the lower quality stuff. They've also taken the liberty of dividing them into one minute segments in case you like to get very specific with what you're downloading. In short, they've made every option available so that when you enjoy your ladyboy porn you're doing it in the way that you prefer.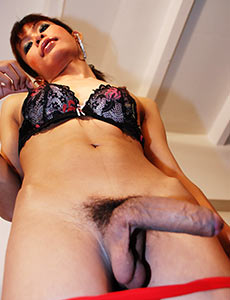 In addition to the hardcore scenes Ladyboy Player features lots of solo content and they've made sure that you have no trouble finding what you want. There are categories for dick size, ball size, hair color, tit size, eye color, location and they've even separated the prettiest of the ladyboys into their own scenes. I was enamored with the big dick ladyboys stroking their meat and cumming hard. Some of the girls are coming in around eight or nine inches and there's nothing more impressive.
The bottom line is that there's a bunch of impressive, sexy porn here at Ladyboy Player and if they continue to update the site at this rate then it's going to be an even better bargain in the future. It's still a damn fine deal because they provide four bonus shemale sites to their long term members. Take note though; none of those sites feature ladyboys prominently. Still, one of them has shemale orgies and that's incredibly rare and incredibly hot content.
Sign up to Ladyboy Player now and start enjoying the incredible hot ladyboy porn collection they have in their members area!