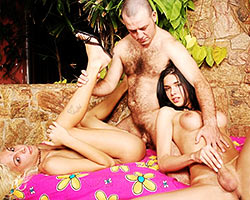 Watching a gallery of Bianca Freire in hardcode action is like watching your lover being fucked by a stranger. You feel envy that some other guy (not You) gets to fuck her shemale pussy, but at the same time you can't help but adore her beauty…
This gallery from Shemale Club has only recently been made public, so You are welcome to enjoy it. As usual the complete set is only available for the members of the club (which I believe You already are).
A burly man Jean has succeeded in fucking two trannies at once, our love Bianca Freire and a blonde chick Dani, and oh my, he gets as much as possible out of this threesome. Watching Bianca Freire is always so much a turn on, imagine if it was Your dick she was sucking, while you played with her yummy shecock and balls. And what could be better than sucking her balls into your mouth just after you just pounded her sweet asshole and another chick is riding your cock like crazy now. Or feeling the hot wonderful dick of Bianca Freire reaming your anus while you fuck the shit out of her tgirlfriend? This is something You'd never forget doing! Visit Shemale Club to see more!