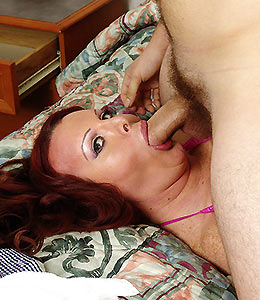 Wendy Williams is well known within transsexual loving circles and she has her own website where she publishes picture galleries and hot videos of her sexy mouth sucking cock and her asshole being stuffed with dick.
She's no stranger to fucking herself but today's picture gallery is all about Wendy performing for her man. At first it's about her doing a sexy solo show to help turn him on. He watches her pose in pink lace lingerie and play with herself and then he steps up and she goes to work on his schlong.
She pulls his cock from his pants and wraps her lips around the cockhead. She must have one hell of a skilled mouth because he's hard in moments. Her lips are wonderfully plump and I'm sure it's a delight when they wrap around cock so I can understand why he gets so rock hard for her. She lets him fuck her ass doggy style after he gets fully erect and then she brings her own cock to orgasm through insistent stroking and desire.
Wanna watch more of Wendy? Visit her site then! 😉