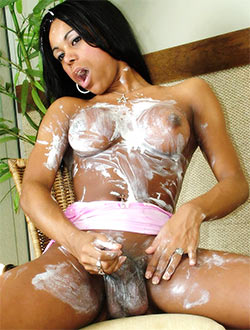 Here's another gallery of a shemale beating her massive cock presented to You by Shemale Tugjobs. When i first heard about this site i thought to myself, what the fuck does this word, "tugjob" mean, you know, I even didn't know it. When i opened the site i figured it's all about shemales wanking their cocks off, and, being the greatest masturbation expert on Earth (don't believe me? Have you checked out my 15 masturbation tips? 😉 ), i couldn't help but love it!
Just look at this juicy babe, the way she works her massive schlong. She surely loves feeling her own shecock in her hands, it feels so hot, thick and veiny she can't refrain from stroking its full length… To make things even sweeter, she covers herself with thick whipped cream, then starts groping her tits and stroking her hard cock. It would be so cool to be there with her, to see this vanilla cream squirting out and landing on her smooth swarthy body while she jerks off selflessly. I think you even woulnd't mind eating her own shemale cream after she's finished, what do you think? 😉
Check out Shemale Tugjobs for more cool stuff like that.