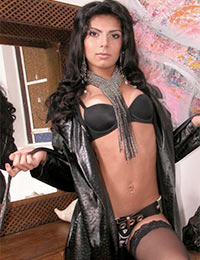 Hey, tlover, todays post is dedicated to you! When you expressed your love for Sasha Davidson, it made me wonder who this rampant tgirl was. Unfortunately, neither looking up this name in google nor asking others hasn't helped me to identify her. It was not until i published the gallery of an unfaithful wife getting fucked by a tranny, that i realized who exactly you were talking about. And only then i remebered that i saw a set named like "sasha_davidson" at what i think was this great Shemale Club site.
But in fact Davidson was not her last name! It was the name of the guy she was fucking! So, i believe it was meant to be Sasha AND Davidson. Now that it was clear, i could easily find more photos of hers.
Here is a picture from her solo set at Nicole Montero's Latina Tranny, and, looking at it I can understand why this girl is so popular. With her big beautiful eyes, round perky titties and fat bendy cock, she's a total stunner. I would have a hell of a good time with her!
Hope these pictures will be new to you and other admirers of Sasha. I have also published several more at the forum, as for the rest of the set, it is available to Latina Tranny's members.