Our reader, Monk, shared his experience about giving a blowjob to a shemale for the first time. It's surely a fascinating read!
---
I've been fantasizing about a shemale cock for a long time. Get me right, I am a straight man and all, but somehow the idea of
sucking a girl's dick always turned me on
. I'm not a big fan of anal sex and I don't think I'd love someone's cock in my ass, I'd rather prefer to give shemale a blowjob.
So I put an ad in a local newspaper and got several replies. One of them was from a tgirl who called herself Kelly, she was very feminine looking on a photo, so I called her and set up a date.
We met in a park and since we both agreed we'd only do oral, we decided to do it right there, in the bushes. I was a little nervous that someone could see us, so we found a secluded place and started having fun.
I kneeled before her, got under her skirt and pulled down her panties. Her penis was soft. I put it in my mouth and started licking it. The texture was amazing, especially the soft skin of the shaft. She had those tiny bumps on the ridge of her dick head (I never saw such before) and I had a great time tickling them with my tongue. I felt her dick growing in my mouth, and that was really cool!
I really had a nice time sucking that wonderful dick. It was not as big as mine, probably about 5″ long. I licked the sensitive underside of the shaft and the testicles. I gripped her cock around the base and slid it up and down together with my mouth.
From the signs of her body and heavy breathing I realized Kelly loved what I was doing and was about to cum and that got me even more excited.
Finally she climaxed in my mouth, I thought there would be a lot of ejaculate, but there was only a teaspoonful or so, and the taste was amazing. I swallowed it all, stood up to kiss her and then she reciprocated and gave me one of the most wonderful blowjobs in my life…
I'm really looking forward to meet this girl again.

---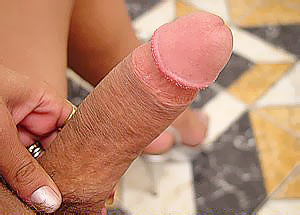 Hey Monk, really nice story! I get a hard on while reading it and felt the urge to jerk off! 😉
By the way, I have found a cock you were talking about! Shemale Karoline also has those bumps on the ridge of her dickhead. What are they? I find them really sexy! Has anyone else sucked such cock before?