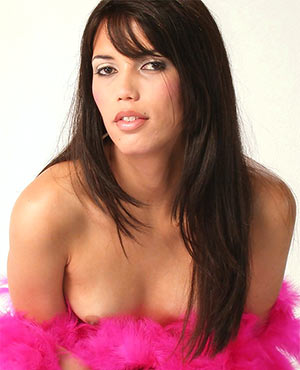 You have probably noticed that I haven't posted any updates here for quite some time, and it was all thanks to World of Warcraft, mind you! This little thing turned out to be very, VERY entertaining, albeit time consuming. Now, after over a month playing, I've decided not to renew my subscription till Xmas (consider me temporarily cured) and better concentrate on another thing I'm addicted to, wonderful shemale porn. After all, it's not taking that much of my time, lol.
So, today I'm going to treat you with a gallery of cute Latina tranny Camila Sampaio. She has a pink feather boa wrapped around her and she's wearing a tight pink t-shirt and a great pair of pink panties that try to contain her bulging cock but have no chance against such a wonderful piece of meat. Camila is quite beautiful too and when she shows off her beautiful body you're bound to find a boner growing in your pants. After all, who can resist the charm of a gorgeous transsexual?
The t-shirt comes off first and shortly thereafter she slides the panties down her legs and gives us a great view of her booty. Many trannies have enormous back sides but she's got the perky, pert and cute ass that I love. There's a picture here where she bends over a chair to show us her lovely ass and her cock dangling down. Imagine how hot it would be to be standing behind her and stroking that hot cock while you fuck her ass. I'd give just about anything to fuck a girl this beautiful, i bet it would be so much better than playing WOW 😉
Anyway, more of Camila Sampaio awaits You at Latina Tranny, check them out now.

Post tags:
brazilian
,
dick
,
latina
,
posing
,
shemale
,
tgirl
,
tranny