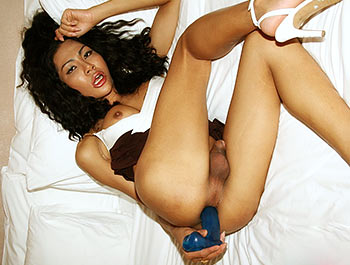 The ladyboy is going to play with a toy today. First she wants to leisurely masturbate though. She's in bed resting on the soft white sheets and she's happily playing with her cock. Her dick is hard and awfully beautiful. She has balls that are held tight against her body and a great pair of titties that are perky and round. They don't have any obvious scars from the surgery, either. The gallery has all the makings of a hugely entertaining romp so tune in and check it out.
For the first six pictures she's just stroking her bone and enjoying the pleasure of it. She doesn't get too deeply into it, instead just enjoying how good it feels to idly play with her cock. Then she brings out a blue dildo with balls at the bottom and she starts fucking her lubed ladyboy asshole. The rectal entrance is ready to receive a nice plastic cock and the chick keeps on playing with it. She drives it in a little further each time and judging by the look on her face she is having a great time.
I really like the white high heels she's wearing. Those are awfully sexy and for some reason make her look even sluttier. I suspect that's what a lot of heels are supposed to do. They're designed to arouse men and these are definitely getting the job done. The chick fucks her ass and gives us a smile and purses those plump lips while no doubt thinking about giving a man a super hot blowjob.
Would you like a hot blowjob from this naughty ladyboy? Check her out at Ladyboy Dildo!

Post tags:
anal
,
asian
,
dildo
,
jerk off
,
kathoey
,
ladyboy
,
posing
,
sex toys
,
shemale
,
tgirl
,
tranny