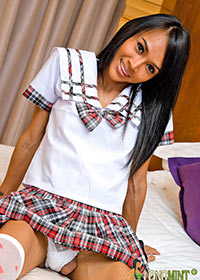 Some of you may already know that everybody's all time favorite ladyboy Mint has started her own site. The name of the site is Long Mint, which is not a big surprise, and You can be pretty sure that you're going to see some serious shemale cock as a member. 😉 I checked out the tour before doing anything and was pleased to find Mint's nine inches of fuck stick protruding from her pelvis. Combine that with her ridiculously slim and trim body and her big tits and you have what many would call the perfect ladyboy. At the very least I'm sure she's the answer to many of your dreams. If you're a size whore she's the lady for you.
They've kept the site design consistent as member's area uses the same colors and basic look. The most recent update and the next update are featured at the top of the page along with links to the content sections. Once again, she's not kidding when she calls herself Long Mint. This lovely ladyboy is fucking huge and she's obviously fully functional. That big dong gets fully erect in every set and because her body is so small it looks even bigger than its nine inches.
Long Mint's site has been around for just a few months and already she's produced a fair amount of sexy big shemale cock content. There are 17 sets, each with a picture gallery and a video, although they list them separately. That should be plenty of tranny babe entertainment for you, especially if you like ladyboy cock.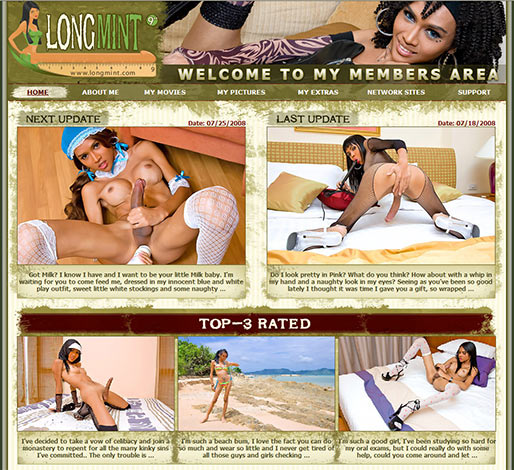 There's really no need to mention how fucking beautiful Mint is! As you know most of the ladyboys that make it big in the porn industry are hot but this lovely chick is near the top of the heap as far as I'm concerned. Her eyes are big and expressive, her smile is sweet and her face is flawless. Her black hair is long and always perfectly styled and her lips are always painted bright with a shiny gloss that never fails to make me think of oral sex. Imagine a night with this beautiful young lady, wouldn't it be the most amazing experience ever?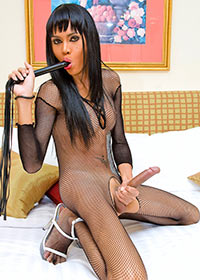 If you haven't seen Mint you should really visit the tour and check out her video trailer because she has a stunning body. Her legs are long and slim like those of a supermodel. Her tits are big and perky like those of a pornstar. Her tummy is tight as if she spends a lot of time working out and of course there's the matter of her huge ladyboy cock.
In one of the most recent galleries she's posing in a black fishnet top attached to black fishnet stockings, black panties and a black bra. At first you can see a small lump in her panties but you have no idea that she's actually hiding a huge ladyboy dick under there. She models her lingerie and her hot body in the pictures (at 1024px and 1500px if you want) and then does a striptease. At first she's coy about revealing her cock, instead preferring to cover it up and tease us with its flaccid form. Then she starts stroking it and holy shit it gets big in a hurry. You really can't believe how big it is until you've seen it yourself.
How many ladyboys do you know that have the capability to lick their dick and do so by just bending over. Mint's body is built in such a way that she can simply bend over a little, snake her tongue from her mouth and give the tip of her monster ladyboy cock a lick. Now if she would only let her members come to her place in Bangkok and lick the dick for her. Yeah, you know you're thinking about doing the same thing.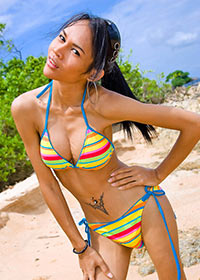 The videos are where Long Mint's big cock really shines. In the pictures it looks hot but you haven't experienced the wonder and joy of it until you've seen her stroking it furiously. Most of her scenes revolve around the stroking of that dick so be prepared to watch lots of masturbation. I'm sure it will make you hard just like it did me and if you'd rather see her pose you don't have to worry because she does plenty of that as well. Just be warned though, that Mint's videos are DRM protected, which means you'll have to be connected to Internet and be an active member of her site to watch them. It's all worth it though 😉
Most sets find Mint posing in a sexy lingerie set, a slutty costume or a naughty fetish outfit. They're all hot and eventually they all end up on the ground. There are currently wallpapers for members to download and she promises a webcam is coming soon (take that with a grain of salt). Long Mint has the biggest ladyboy cock I've ever seen and the decision to join comes down to whether or not you want to see that big cock in action. The content is high quality across the board and she's hot so everything else is covered.

Post tags:
asian
,
dick
,
kathoey
,
ladyboy
,
shemale
,
tgirl
,
tranny
42 Responses to "Long Mint"