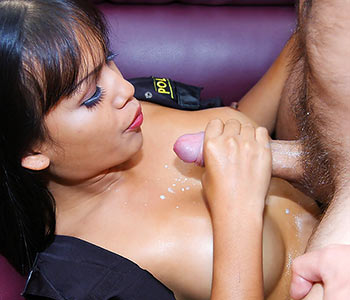 Since the moment this site was launched, I wanted to post a review of it and here it finally is. There are a lot of ladyboy sites out there but there don't seem to be many that feature tons of hardcore ladyboy fucking. Sometimes you want to see the ladyboy cock in action or at least see her getting fucked. This is what Extreme Ladyboys offers. They've packed the site with tons of hardcore ladyboy sucking and fucking and if you're looking for a taste of the action I suggest a visit to the tour where you can watch streaming videos from some of the steamy recent additions. Seriously, once you see the action they have inside you might not be able to resist joining.
I know I couldn't so here I go into the member's area to check out the stunningly hot action that was promised. They make you agree to a terms and conditions before entering the site and then you're dropped into the content and left to run free 🙂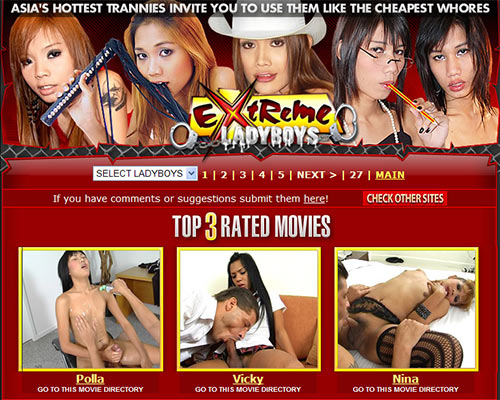 The top three rated movies are the first thing you'll see although they don't say how many votes each received so who knows if those represent the best of the best. For your reference the current top rated movie features a ladyboy having oil poured all over her body and then getting fucked by a thick cock. A shiny ladyboy is even hotter than a normal ladyboy!
The update system is well done, you are treated to two additions per week. One is a full content set with a movie and a high resolution picture gallery. The other is a bonus set that seems to be non-exclusive, although it isn't clear. In truth all the videos are quality so just assume you're getting two top notch additions per week.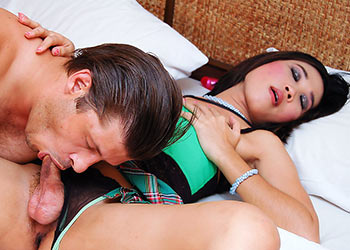 The videos are great looking at 720×576 (when downloaded) or 384×288 (when streaming). The photos are great looking too at 1280px; they've got the quality nailed and along the same lines they have the quantity nailed. There are more than 130 updates to chew on and with the site continuing to grow at an impressive rate you're not going to run out of content anytime soon.
You might be wondering exactly how extreme the content at Extreme Ladyboys is and in reality the answer would be not all that extreme. However, everything is relative and when you compare the hardcore ladyboy sex found here to other ladyboy sites then it does in fact seem rather extreme. It's really that they do some fun, crazy stuff. One month of updates featured the following scenes: A foursome with two guys teaching two ladyboys how to fuck; a ladyboy in pantyhose having lipstick messily applied to her face before she sucks cock and is then bent over and fucked; a French maid ladyboy in sheer panties being stripped, wrapped in plastic wrap and fucked; and a ladyboy being covered in whipped cream and chocolate sprinkles and fucked hard by a big cock.
They're not hurting anyone or double penetrating the ladyboy sluts but they're working outside the box and it's a pleasure to watch. The one thing I'd like to see more of is ladyboys fucking guys. They have a few scenes where this goes on but it's a minority of the full collection. Thankfully they make it clear in the preview pictures which scenes have the ladyboy cock in white asshole so you don't have to browse every damn scene just to see what you want.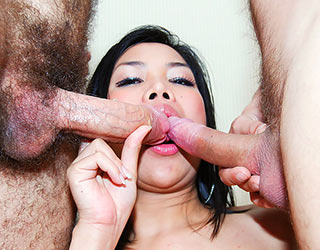 One of the hottest scenes features ladyboy Ohm devouring two huge cocks of her lovers at once and then getting double teamed by them. Another particularly hot scene is of a ladyboy named Nam taking a dildo up her ass while her white boy lover sucks her dick. He then bends her over and fucks her ladyboy asshole while pushing her face into the sheets. After ramming her asshole hard he pulls out, bends over and puts a little lube on his own rectum so she can take him. She doesn't waste any time shoving her tranny dick far inside him. In another great scene a slutty schoolgirl ladyboy is spanked by the school disciplinarian and then she takes his cock in her mouth and ass. She turns the tables on him by making him lick her asshole and balls and then she cums on his face. She doesn't do any fucking though.
One feature that's sorely missing is a search function or a keyword. There's no way to look through the content other than to browse through the 30 or so pages of updates. It's a minor annoyance but I would have loved some way to separate the scenes by what's happening during the set. Still, I'm quite pleased with Extreme Ladyboys and it represents one of the finest ladyboy porn sites on the web and it's available for a reasonable price. Visit their tour and see all goodies for yourself!