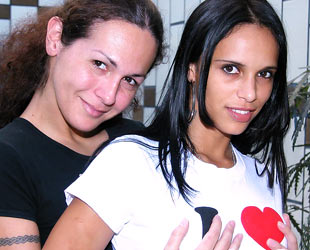 Why does a man join a particular tranny site? What makes him choose one over the other? In the case of Latina Tranny I joined for a couple of reasons. Mostly, it was because I knew the person who runs the site, Nikki. She's a hot tgirl herself and I couldn't expect anything else but to see tgirls equally hot on her site.
Speaking of Latin countries, it seems like they have more trannies to choose from in South American countries like Brazil. How do they produce such beautiful shemales down there and how much does a plane ticket cost? There are a few pictures on the tour of a shemale named Mariana Cordoba and she has one of the biggest dicks I've ever seen on a tranny. Also I know that Latina Tranny has Bianca Freire, Sasha, Sol, Carla Novaes, Laisa Lins, Camila Saens (and of course Nikki herself) in its collection, so I just HAD to join and see more of it 🙂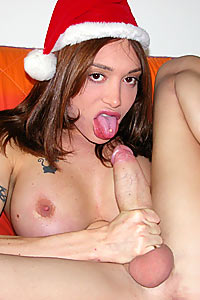 My search for more Mariana Cordoba content brought me 28 content sets, 3 of which were videos. The rest were super sexy picture galleries featuring the blonde (and sometimes brunette) shemale and her huge shemale cock. In one she's wearing black boots and a red hooker's outfit, in another she's posing as a French maid, in another she's wearing slutty fishnet stockings and a slutty pink top and it goes on and on. In each gallery she gets naked and in most she whips out her dick and gets it hard for you. When her dong is half hard it's really impressive; when she reaches full mast it's full on boner time. She also has a great pair of tits that are big, round and totally sexy.
Of course, Latina Tranny is not the Mariana Cordoba show (although that would be a pretty hot site). There are more than 400 models on the site and some of them are even hotter than Mariana (although none seem to have a bigger dick). Each model has what they call a bio page, although it's really just a list of her sets. Each one has a title and a preview picture and in some cases they list the phone number of the model. If you're looking for a date with a Latina tranny you can actually get one, although you can expect to pay. Still, if you're taking a trip to South America you should look up some of these pretty babes. I'm sure they'll show you around and give you all the sexual pleasure you need.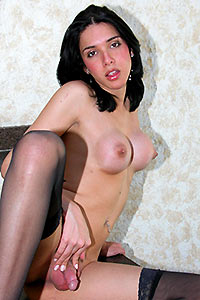 Latina Tranny is updated every day baby! Most of the time they're adding a new photo set but they throw in a movie every week to keep things interesting. They mix it up with hardcore and solo flicks. It would have been nice if they had included screen shots with each movie, but it was not to be. You get one picture and it's usually enough to give you an idea of what you'll see. If the chick is fucking the guy they usually show her dick in his ass and if it's the other way around they illustrate that. All movies added after October 26, 2007 come in a beautiful high resolution WMV and all those added before that date come in 320×240 WMV.
There are 150 movies total, so they're obviously not the strength of the site. The strength is the shemale image galleries and there are thousands of those with a new one six days a week. Rest assured, you're never going to run out of image content at Latina Tranny. Their goal is to have you knee deep in pictures at all times. They even show you preview pictures from the next six updates to hit the site and if there's a better incentive for sticking around as a member I can't think of one.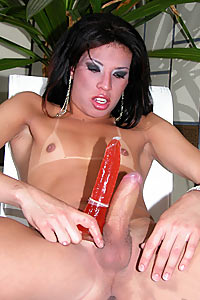 Everything about the ladies at Latina Tranny is hot. I usually like seeing hardcore sex more than anything else, but watching these babes do solo stuff is remarkably sexy. I just looked at a gallery starring Alana Ribeiro. She's from Sao Paulo, Brazil and the set was a solo one where she fucks herself with a dildo. She's got a condom wrapped around it (for some reason I find that amazingly sexy) and she slips it deep inside her asshole. The dildo even has a suction cup on the bottom so she could attach it to a flat surface and ride it if she so chose. How great is that?
They've divided the content into categories to make the browsing a little easier. There's a category for each hair color, several niche categories including fetish, toys and big cock, and a number of hardcore categories. One features on the site that You may find useful is the TS Clubs section. There you can find TG friendly clubs for almost every state in the United States and five countries in the Western Hemisphere. How great is that? If you need a tranny connection they're going to hook you up. For example, there are more than 50 clubs in the state of California alone. Awesome!
All in all, Latina Tranny is a great site for the shemale lovers, what is more, it is run by a great person. If you love the shemale cock I don't think you should waste a minute! Join Latina Tranny and spend hours watching quality shemale porn.