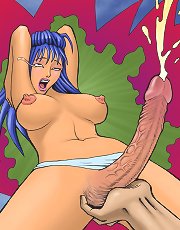 I myself am a big fan of cartoons and I'm glad to announce there is finally a worthy shemale hentai site to check out – SheAniMale.
In Japanese Hentai means "pervert". (If you wish, you can read more about hentai at Wikipedia.) As You know, hentai is animated pornography where shemales have better bodies than any real women accompanied with enormous dicks. Every shemale in a hentai has body features several times better than any real person. There's no such thing as a flat-chested or small-dicked shemale, they are just perfect. All kinds of thing that's barely possible in real life can be seen in cartoons.
So, do you know why so many people like hentai? It's a fantasy. In fact, all porn is a fantasy. When you see a movie of a shemale getting fucked by a dude with huge cock, you pretend it's you fucking her, right? Or, when you see a tranny with a sweet body but a little manly face, you imagine that she is more feminine than she really is, don't you?
Hentai kills such thing as monotony. No more boring hundreds of picture sets taken in the same cheap hotel room! No more shemales with flat tits or boobs with scars! No more small dicks! Everything is possible in cartoons!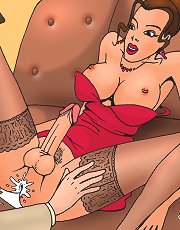 Let's see what SheAniMale has. The site was launched just recently, and there are already almost 50 high quality toons there. The new cartoon is added every 4 days and usually contains 12 images.
One thing that got me extremely excited was "Send your story" feature! Imagine, your fantasy that is impossible to be shot in real life can be easily drawn! For example, a pilot fucking a shemale stewardess in a cockpit or a shemale cheerleader fucking a referee right on the stadium. Such thing would be impossible to shoot in real life, but it is possible in hentai.
SheAniMale has a special page where You can submit your own custom stories. And, if it is good enough, You can expect to see a cartoon drawn basing on Your own shemale story within 2 months. Isn't that exciting?
See what stories they already have there:
Tailor Made For Him. Ladyboy went to a tailor and felt quite horny as he placed the tape around her body. So the ladyboy let him remove her sweet panties and start sucking on her growing erection…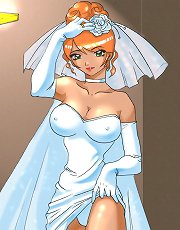 Stranded On An Island. He thought he was dreaming when he saw the beautiful woman wash up on the beach. It had been so long since he enjoyed sex that he took her back to his hut to have his way with her. But to his surprise the beauty woke up and reveled her hard cock to him…
The Angel Is A Devil. She gave him a firm blowjob and let him penetrate her sweet ass. After a few minutes of ramming his cock deep within her, he came on her face and then the angel flew away:
The Pirate's Life For Shemale. The two pirates tried to attack a beautiful woman on a ship. However they got a surprise when they ripped off her dress and found her rock hard dong inside…
Hentai has no limits. That is why it is so great. I love real shemale porn, but hentai is perfect. Normal porn is not.
What are you waiting for? Go check out
SheAniMale – the unique shemale hentai site.