Shemale Revenge is a recently launched shemale domination site featuring full length hardcore videos and hot picture galleries. This particular niche has become more popular in the past five years and there are a small number of sites out there producing this type of content. The more comfortable men get with their own sexuality the more they're willing to admit their desires for porn outside the mainstream. The free tour is quite revealing, offering pictures and descriptions from each of the content sets that have been uploaded so far. It's always a good sign when a site is willing to show you everything they have to offer.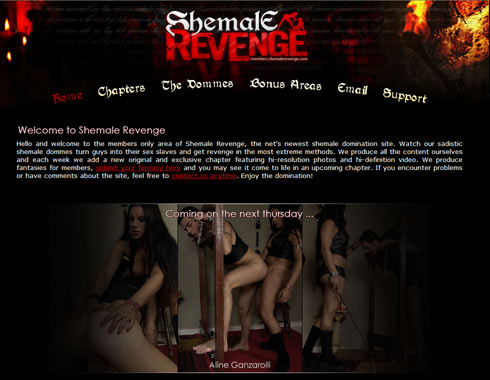 The member's area stays with the same dark and foreboding theme, as is fitting for the content type. There's a welcome message when you first log in that contains a link to the fantasy submitter. If you submit something they find particularly hot there's a good chance they'll film it and it will become a future update. Very few sites offer that kind of customization and although there's a slim chance yours will be picked the idea that it could is awfully sexy.
Before you get to the content they offer a brief preview of the next update. They list the shemales name and provide a few pictures that are meant to entice you into keeping your membership for another month if it's about to expire. You've got to see that next update, right? They call each new update a chapter and each chapter features a picture gallery, downloadable videos and a review page where members can submit their thoughts. I haven't seen any reviews yet, but once again this is a recently launched site.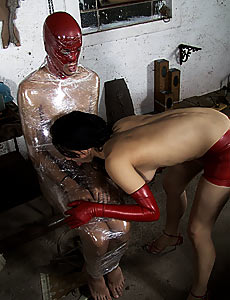 The most important element of any shemale site is the models. If the girls are ugly or their dicks don't work properly then the site is a wash and useless to most t-girl fans. If you've seen the tour then you know that Shemale Revenge doesn't suffer any of these problems. For instance, the most recent addition features a shemale with one of the biggest cocks I've ever seen. Even better, it seems to get rock hard on command and her slave in the scene is able to take the full length up his tight ass. That's what good shemale domination porn is all about.
The general theme of Shemale Revenge is chicks with dicks taking control and exacting revenge on their male slaves. It's not really clear why they need to take revenge in most cases, but if you're focusing on the little details you're missing the point. It's nice when a site tries to develop back story for their content but it's not nearly as important as the execution. The shemales here are comfortable with being in control and the guys are perfectly submissive.
Each scene begins with the shemale taking control. Sometimes observers are present and they get to watch as the man submits himself to his lover with a cock. Some scenes feature a bondage element, like chapter seven where the shemale wrapped her slave in plastic and threatened to skewer him with a sword. Other scenes move right into the foreplay, with the shemale shoving her fat cock down her slave's throat. In chapter two the shemale makes her slave dress in a bikini top and a short white skirt. The point is there's quite a bit of variety despite the similar setups for each scene.
One thing you'll see in each of the chapters is anal sex. The shemales are the only ones that get to use their dicks for fucking and they relish the chance to pound the tight assholes of their slaves. I've seen a few shemale sites where the guys aren't able to take a dick in the ass and I'm thankful that they've avoided that pitfall at Shemale Revenge. These guys have clearly been fucked in the rear before and they're thrilled to be doing it again. Certain scenes finish with a facial cumshot and I pleasantly surprised by how hot that was.
The bonus area offers streaming video content, but when compared to the chapters it falls woefully short. The bonus sites have been leased from a third party provider and as you might expect they're pretty crappy. They offer three shemale sites and a slew of other hardcore sites, none of which are very good. It's nice that they offered up some bonus content because the site is so new, but it's not good enough.
All in all, Shemale Revenge is one of the best shemale domination sites on the web. Although they only recently launched they've already built a solid foundation of content and as long as the weekly updates continue this will soon be a world class site. If you like your shemales on top then this is a perfect match. The ladies like to use their dicks to punish their slaves; they like to fuck a tight hole whenever they can. I promise you'll like it as well, join Shemale Revenge now!