Have you ever seen a shemale site where the guys are sissified and fucked by a hot chick with a big dick? Has anyone even tried to do such a site? I have plenty of experience in the niche and Shemale Sissification is the first site I've come across that does it well. If you're wondering what I'm talking about you should really visit the tour and have a look. There are free videos playing for the most recently added scenes and they look pretty fucking fabulous. At the very least you'll have a good idea of whether or not this kind of shemale porn turns you on.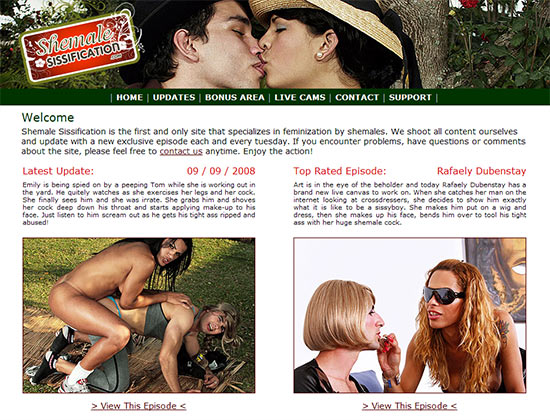 There's no question that Shemale Sissification is for submissive guys. The men that start in these scenes are being turned into women in most ways by dominant shemales and that's not for everyone. However, those of you that are aroused by such thoughts are going to find this site deeply satisfying. They hit the mark in almost every way and should be applauded for going somewhere very few sites have been willing to go.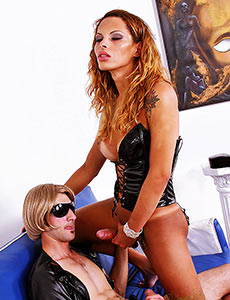 On the member's main page the latest episode and the top rated episode are listed. At the moment the top rated scene features Rafaely Dubenstay and a young man she puts in a blonde wig, a cute blouse, a leather skirt and black stockings. She even puts him in makeup! She turns him into her little sissy boy and once he's all dressed up she whips out her hard cock and lets him feast on it. You can't imagine how hot it is 🙂 She bends him over and fucks his ass while the camera zooms in for a perfect view of her latex wrapped dick penetrating him deeply. She also gives him a nice facial cumshot like any good sissy should receive.
Shemale Sissification is not yet a huge site because it was launched in May 2008, which about four months ago as of this is writing. So far they've added a new scene every week and they all follow the same basic format. The pretty shemale babe meets her new sissy and convinces him to give himself over to her desires. She wants to dress him up like a sissy and then fuck his tight ass with her big shemale cock. How many of you would let a sexy chick with a dick put you in a dress and makeup and bend you over? Would you want her to fuck your tight ass hard with her big meat?
Most of the guys are put in fairly elaborate makeup and there's always a wig. The hair is an awfully big part of looking feminine and it changes the guys more than anything. Most of the female clothes are sexy and if you've ever thought about dressing you'll be in heaven as you watch these guys. You'll be stroking your dick and dreaming about being in their place, wishing that you were the one lucky enough to have a caring shemale dressing you up like her little fuck toy. I can't get over how great this site is! I love that they have gone to this place that no other high quality shemale site has gone.
My favorite scene stars Carla Novaes (one of the hottest shemales ever!) and a young Latin man. She puts him in makeup, pantyhose, a wig and a little black dress and then she makes him drop to his knees and suck her big cock. Carla has a perfect shemale cock and he takes every inch of it up his asshole after giving her head. They're great about capturing the hardcore sex from multiple angles here at Shemale Sissification and this scene is no exception. You have to see it to believe just how fucking hot it is.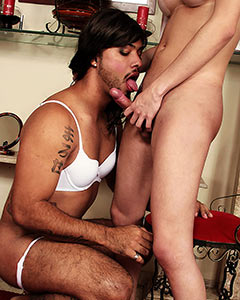 There's a picture gallery with every scene in addition to the video and those are a great way to get warmed up while you wait for you movie to finish downloading. It might take a while to bring down the movies because they're high definition! That's right, in addition to producing the best shemale sissy porn on the planet they do it in HD. There's a DVD quality version of each scene as well just in case you don't want to wait. The only complaint I have about Shemale Sissification is that they speak in Spanish and I don't speak Spanish. The verbal component of the porn, which can be one of the most important parts, is lost and it's a pity.
There's great bonus content that comes with your membership. First you get access to another shemale site that has more than 400 full length scenes. They're not as specialized as those at Shemale Sissification but it will make up for the fact that they haven't had a chance to produce a lot of content yet. There are also 60 bonus shemale scenes in the member's area that feature all manner of hardcore fucking and sucking.
All in all the guys did a great job with that site and I imagine they're going to have a strong membership following because of it. Check Shemale Sissification out now to see them sissy boys turned into dirty bitches by dominant shemales!