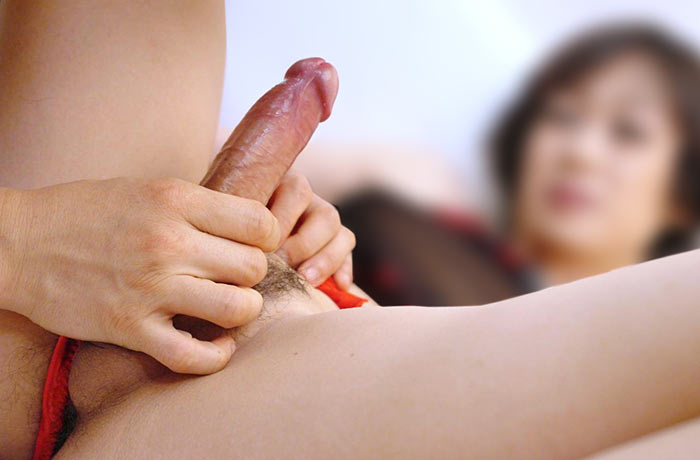 Do amateur ladyboys exist? Can you go to Thailand and find a beautiful, feminine girl with a cock walking the streets or hanging out in the bar? Or do they only appear in porn? This hot gallery is all about those amateur ladyboys and it shows that they can be just as hot, if not hotter, than the hot chicks with dicks that get in front of the camera and do dirty deeds for money. In fact, these ladyboys might be even hotter because they're acting dirty for the fun of it. It arouses them to get naked and play with toys or suck dicks on camera. They want to make their boyfriends happy and all the guys in the audience happy too.
The set consists of 12 amateur ladyboy pictures and there's plenty to enjoy. In one pic we see a shaved ass babe bent over with her hole gaping open just a little bit as she dreams of being penetrated by a stud. In another we see a tight asshole banged from behind. There's a girl in a fishnet body stocking with her man sticking his finger up the tight asshole to go exploring. A babe in white panties has her ladyboy cock out and it's pointing up at the camera with the plump head looking so suckable and sexy.
Another picture that I liked was the one that features a ladyboy asshole just after her long, ribbed glass dildo has been pulled out. The butt gapes open and looks utterly appetizing. The Asian shemale has kept it clean and shaved because she likes to get fucked and knows guys want it that way. Just above that picture you can see a ladyboy with her censored cock out as she wears a cute schoolgirl outfit. She's in stockings and a t-shirt along with her plaid skirt and she's utterly adorable and arousing.
Check out these amateur ladyboys! Watch all the clips now and find out how dirty they really can get! You can even submit your own ladyboy home clip for others to watch, enjoy and rate!

Post tags:
anal
,
asian
,
dildo
,
fucking
,
jerk off
,
kathoey
,
ladyboy
,
posing
,
sex
,
sex toys
,
shemale
,
tgirl
,
tranny
One Response to "Do amateur ladyboys exist?"