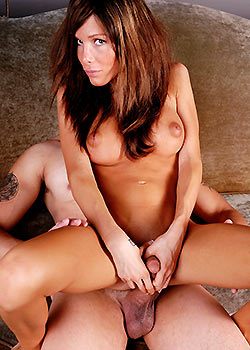 Kimber James is easily one of the best looking and most glamorous shemales you're ever going to see. When you first see her it's impossible to tell that she has a dick between her legs because she's just too feminine. This hot gallery shows her getting fucked up the ass and she's riding the dude's cock so at first we don't see her tranny dick. It looks like a sexy female with a tight ass is sitting on a dick and having anal sex because it feels so good. A little later Kimber turns around with her dick in hand and we realize that this is actually a gorgeous, sexy shemale that we're looking at.
The lovely Kimber James has a fantastic set of tits, a tiny waist and a small ass to match and if you scope out this shemale hardcore gallery you'll get to take in all of that beauty along with the sight of the rather large cock pushing up into her shemale asshole. I like the picture where the camera is below her and she's facing us while riding his cock and just about all of it is inside her nasty fuck hole. The shemale hottie is playing with her own dong too and even two cocks at once (my favourite scene) and I'll be damned if this girl isn't one of the finest additions to the shemale porn scene in a long time.
I bring this gallery to your attention because Kimber James has just launched a personal site with all kinds of hot pictures and videos showing her doing just about anything you can imagine. I mentioned earlier that she was glamorous and never is that more true than in her picture galleries. She's like a fantastic, professional centerfold but she has a dick, which separates her from most girls out there. She loves showing that dick off though and she doesn't have any trouble getting it rock hard when it needs to be. Also, there's a shitload of hardcore content where the shemale slut gets nailed hard. That's why we love Kimber James and i'm sure you'll love her new site too.

Post tags:
anal
,
beautiful
,
blowjob
,
dick
,
fucking
,
jerk off
,
sex
,
shemale
,
tgirl
,
tranny
18 Responses to "Sexy shemale Kimber James fucked"