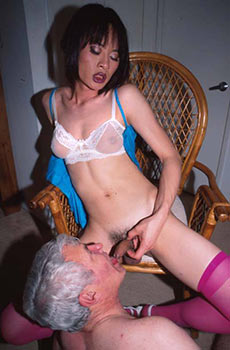 Even when you're old and gray you can still meet and pleasure a tranny, and this hot gallery from Latina Tranny is a proof to that. The dude is naked and standing over his tranny girlfriend, who is probably half his age. She's got her hand wrapped around her cock and she invites him to drop to his knees and pleasure her, an invitation that he gladly and eagerly accepts. First he takes her ladyboy cock in his mouth and then he gets bold and starts licking her asshole. What a naughty old man!
Let's take a moment to appreciate the tranny babe. She has a lovely, natural looking body with a nice tight tummy and a lovely little pair of tits in a white lace bra. Her cock is probably five inches long and he takes all of it in his mouth over and over again. He's promised her that he's going to get her off and she's ready to blow her load. It's the ass licking that really gets her close to cumming and eventually she blows a big load of her ladyboy juice on his face.
Credit to Latina Tranny for this wonderful gallery!