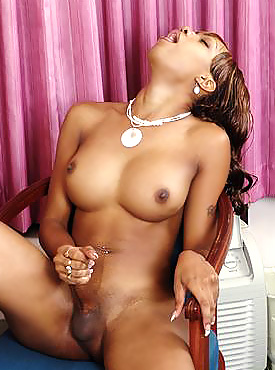 One thing you don't see much of on the web is solo shemale sites, especially black ones. The teen genre is overflowing with chicks that have their own dedicated websites, as are many others. Hell, even gay porn stars have their own sites where they post pictures and videos of themselves. Why is it that the shemale genre is so devoid of this type of sweet pleasure? I can only think of two solo shemale sites, the ones of NikkiTSFun and ShemaleVictoriaXXX… Whatever the reason there are a few babes that have dared to challenge the norm, and Sexxxy Jade is one of those fine ladies. At SexxxyJade.com you can follow all her exploits and even book an appointment if you want to taste her black shemale goods.
Jade keeps things simple in the member's area. The body of the page features links to the picture and video sections, which is where you'll find the bulk of the content. This black shemale queen doesn't want you to be confused on your journey of sexual exploration. It's unclear how often the site is updated but this chocolate shemale goddess has built a large enough collection of content that you won't struggle to find pleasure.
The fun begins in the picture galleries where you'll find more than 1, 500 images waiting for you. Those images fill 19 hot galleries and each features a different theme. Judging from these images Jade is the kind of black queen I'd love to spend some time with. Most galleries have 75-100 images each but there are a few small sets that appear to have been photographed while she was in the middle of entertaining a gentleman. Those sets generally have small images (640×480) while the professionally planned and shot sets feature full size shots at 900px.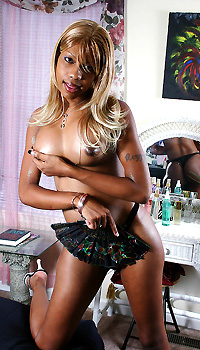 The images are well organized in thumbnailed galleries and browsing them is a breeze. They load quickly thanks to a speedy server and in general they're beautiful. There are two sets that stand out as particularly awesome. In the first Jade is posing as a French maid. Her outfit is one of the sexier versions I've seen with a sheer top and all kinds of lace worked in. She slowly starts to strip from her outfit, revealing more of her body along the way. The only disappointment is that she doesn't whip out her black shemale cock and play.
The schoolgirl outfit is awfully sexy as well. It consists of a short plaid skirt, a tight white tank top and a pair of white leather boots. She's even carrying a cute little handbag. Once again she slowly strips from her outfit, revealing more and more of her body with each passing image. Once again she neglects to show us her cock. For that kind of fun you'll have to turn to the other galleries. However, you can be rest assured that Jade busts out her black shemale schlong ever now and then and it's quite impressive.
The images are quite nice but it's the video clips that interested me the most. First, Jade is a total fox and watching her interact with someone else or with herself on screen is a pleasure we should all take part in. Second, she doesn't do any hardcore stuff in her picture galleries so I was looking forward to seeing this other side of her, the naughty side. There are 49 videos and they offer a solid mix of content types.
The finest type is obviously the hardcore sex. In most cases you'll watch as Jade gets fucked by another man, usually a black stud. There are a few occasions where she uses her cock for fucking however, and I have to admit those are my favorites. I love watching her pound the tight ass of a cock loving man with her lovely black meat. You can also watch as Jade fucks a female, which is surprisingly hot. It's like a lesbian scene except one of the ladies has a real live shemale cock to put to use.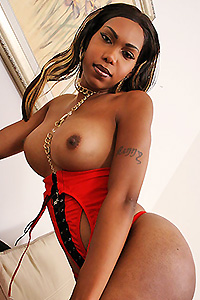 The videos play in an embedded Windows Media Player, which is a bit disappointing, but with basic HTML knowledge you'll manage to download them as well (hint: do a search for "/galleries/videos/" in HTML code). The streams are well implemented and they load quickly. You can run them full screen as well and though there is some quality loss it's not bad enough as to make them difficult to watch. The choice is yours although I highly recommend the full screen mode.
There are a few others areas of interest. First Jade has a forum where users can post about the site, the latest content updates and ask questions of Jade herself. She posts fairly often so if you're not asking a ridiculous question you'll almost certainly hear back from her. Finally you can book an appointment with Jade. If you're interested in some one on one time with this black shemale goddess then don't hesitate to pick up the phone and make an inquiry. Her rates aren't listed on the site but I'm sure she isn't cheap. It seems like it would be worth it though; worth every penny in fact.
In conclusion, she has a great site. And if a big black shemale joystick is your obsession, You're going to love it at SexxxyJade for sure. Visit her site now.