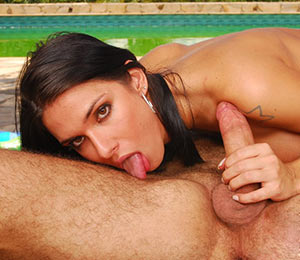 When I joined Shemale Club I think it was mostly because of Bianca Freire, a hot Brazilian t-girl that I'm obsessed with. I was looking for pictures of her all over the net and as it turned out Shemale Club had one of the most impressive collections with a total of 14 picture sets and videos. Needless to say, that kept me busy for a very happy 14 days.
After I was through with Bianca I decided to check out who else they had on their site and I was pleased to discover a really huge shemale database. As of now there are over two hundred different t-girls awaiting you inside. And by "different" I mean Brazilian, Chile, Argentina, American, Ebony and Asian tgirls…
It was quite some time ago that I joined that site and I can proudly say I still love being a member of Shemale Club. This fantastic site delivers the best value for your money and it's a true pleasure for me to do a review of it. Let us get started…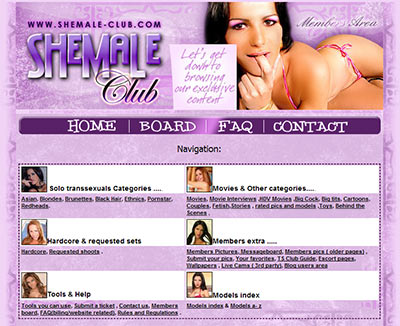 It's always good to start a review by checking out the free tour for a site. In the case of Shemale Club you'll see that they have an incredible amount of content for you. At first it looks like any other tour, but then you scroll down the page and you see a full list of the models in the database and images from the most recent updates. There are high definition videos at your fingertips and by all accounts you'll get to see hot trannies posing in all kinds of sexy lingerie and getting fucked in a variety of sexy settings.
Strangely, the member's area is not nearly as pretty as the tour. It's not ugly by any means, so it's not a huge deal. What's clear from the start is that there's a ton of shemale porn content to look through. The navigation box features categories like solo transsexuals, hardcore and requests, a model index and a fairly large collection of movie categories to look through. It's tough to decide where to start, but I recommend you check out the solo trannies first.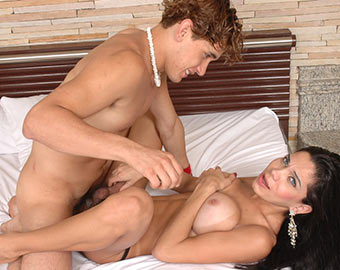 There are seven categories of solo shemales: Asians, blondes, brunettes, black hair, ethnic babes, porn stars and redheads. Pick a category and you'll be taken to a list of solo galleries. For each gallery they provide a small preview picture and a profile of the model. The profile includes her birth date, dick size, phone number and an email address if applicable. If you want to setup a date with one of these beautiful girls you're more than welcome to. You'll find that they live all around the world, maybe even close to your location. Isn't that exciting?
There are tons of shemale solo photo galleries and they truly offer something for everyone. No matter what kind of shemale babe you like or what size cock you desire or what kind of outfit you want to see the shemale posing in, Shemale Club is going to provide it for you. The hardcore galleries are displayed in the same way as the solo, although they don't offer contact information for the models. Instead there's a short description, the date on which the set was added and the number of pictures in the set. They have hardcore fucking of every variety, including plenty of shots of shemales fucking guys.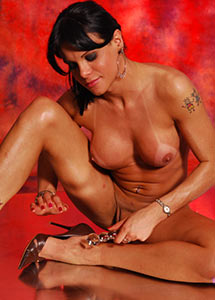 Shemale Club also provides an exceptional collection of movies. There are several different categories of film you can browse through, but it's probably best to just view the general movie page. If you delve into the various categories you're going to see a lot of overlap and it gets a little sloppy. However, once you figure out the organizational system (it will take a little while) you'll have no trouble finding what you want.
The high definition videos are beautiful and they can be downloaded in a low resolution clip as well if you want to avoid waiting a long time for your video joy. There are more than 260 videos total and they generally add a new video every 2-3 days so that number will continue to grow (it's early January 2008 as I write this review). The high definition videos look fantastic and they made the switch in early 2007 so they've built a pretty good collection of them already.
The hardcore content at Shemale Club features guys fucking shemales, shemales fucking guys, shemales fucking shemales and shemales fucking chicks. There tons of picture galleries and videos featuring all of the above and since they update the site every day you're guaranteed to see something fresh all the time.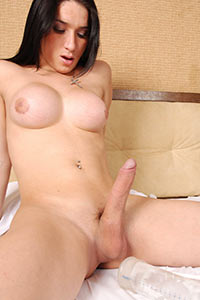 There's a page dedicated to fetish content on which you'll find everything from a shemale in a sexy nurse's outfit to a babe in tight lingerie. They don't generally delve into dark fetishes, so you're not going to be seeing much BDSM content. Instead it's stuff that's just slightly off the beaten path and in general it's very hot. The story section has promise but it's not updated often enough to make a difference in a membership recommendation. There are only 11 stories and they haven't added a new one in more than 15 months. When it comes to shemale stories you'd be better off checking our tranny story archive at our blog. 🙄
One of the sweet features of Shemale Club is the ability to make a content request. You can email them with your fantasy and they'll do their best to film it. You can request a specific model as well; they keep in touch with all of the girls. Be sure to dream up something deeply naughty before you submit it. If you're going to go for your fantasy you should make sure it's vivid.
In cunclusion i must admit that Shemale Club can be intimidating for first time members because it's somehow difficult to navigate, but that doesn't mean you shouldn't join. There's simply too much good stuff here to turn away from it. There are more than 260 video clips and countless hundreds of photo galleries at your disposal and that number grows every day. For true shemale fans it would be a crime to ignore such a wealth of original content. Shemale Club is absolutely worth a visit! 😎