Shemale Mov claims to be the biggest collection of shemale movies on the net, which is pretty bold. There are a lot of shemale sites out there and it would be hard to beat them all, but even if this isn't the biggest one they definitely have tons of tranny porn inside.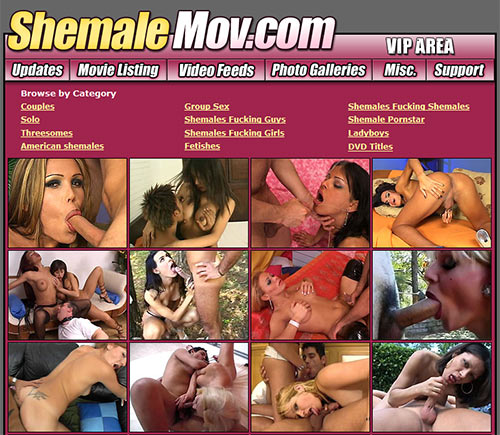 I know that because I just finished watching the preview trailers they make available on the tour. They have 28 just sitting there waiting to be watched and waiting to turn you on. If you're at all curious you've got to check them out. Get all chubbed up before you join and witness the wonder that is the member's area.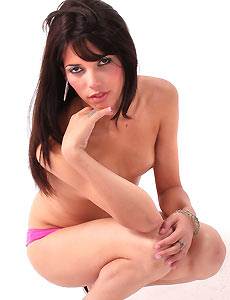 As of February 28, 2008 the full video collection stands at roughly 650. They update every 2-3 days and have been doing so since the site was launched so they're going to continue to do that. That's probably not the biggest collection on the net, but it's pretty fucking close and Shemale Mov is really well organized so they don't have to be the biggest. The best thing they do is break down the videos by category to make it super easy to find the hot stuff you're looking for. For you information the categories are: couples, solo, threesomes, American shemales, group sex, shemales fucking guys, shemales fucking girls, fetishes (hint: check out theit foot fetish videos!), shemales fucking shemales, shemale pornstar and ladyboys.
How great does all that sound? There must be at least one of those categories that turn you on enough to get you interested in a membership. For me it's shemales fucking guys and a particular Brazilian shemale pornstar named Giselle. She stars in five or six scenes in the category and she's totally fucking amazing! I've downloaded each scene in high resolution and I've already watched them a couple times (click on her thumbnail below to watch a lower res episode). I can promise that they're going to sit on my hard drive for months to come, maybe even years. She's just so hot I can't get enough of her. Her body is perfect with big perky tits and a nice sized working cock. She's also gorgeous!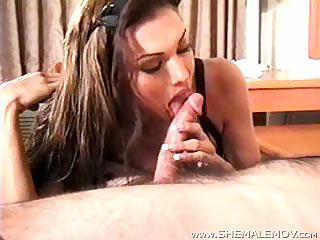 Giselle also does some seriously hot fucking, pumping her lover's assholes full of her hard tranny cock. A couple of them are even treated to a mouthful of her cum. The shemales fucking guys section has more than 120 scenes so it's pretty well fleshed out. Most of the categories have ample scenes with the exception of fetishes and ladyboys. Both of those have less than 15 scenes but you probably already knew that was going to be the case if you've seen the tour.
Have you seen a lot of solo shemale porn? When you have hot girls stroking their big dicks there's a lot to like, especially when they shoot ropey loads of cum. I'm impressed with the size of some of the dicks on the site. There are a few girls who are over ten inches and that's dreamy stuff (although I don't recommend dreaming about something that big fucking Yous ass; who could handle that?). Have you ever checked out shemales fucking girls? Damn, that's way hotter than I thought it would be. It's like a great lesbian scene where one of the girls has a hard dick that she's eager to poke the other slut with.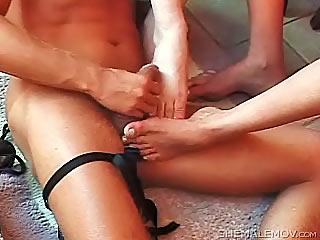 When Shemale Mov first launched they offered a 320×240 mpeg of each scene and that was it. Soon enough they realized that wasn't going to get the job done and they upgraded the quality. Now most scenes are available at 640×480 and 320×240 and most are in WMV. That way the file size is a little lower without having to sacrifice any of the quality. All the shemale videos are downloadable so you can freely build the world's most excellent shemale hardcore collection. Considering how often they update it could take years to use up all the content, so a membership is a tremendous value.
Shemale Mov is built from scenes pulled from DVDs. They organize them for you, but you can also check out the full DVD list if you'd like. It's a pain in the ass if you ask me but I wouldn't presume to judge what other people like so check it out. They have roughly 100 photo galleries you can check out too. Those are most useful after you've started a download and want something to keep you busy while you wait for the hot shemale video to arrive on your hard drive. There are softcore and hardcore galleries featuring tranny models you know and some you don't. Finally they offer four shemale video feeds that are sort of a last wave of defense. If you've downloaded everything and still want something more then check out the feeds and squeeze off one last load.
Join Shemale Mov, get your pass to access hundreds of HQ tranny videos, grab your dick in your hand and start having fun! 😉