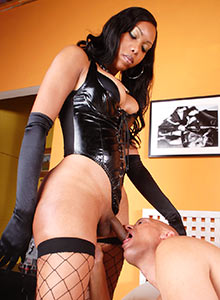 Several days ago I posted a video of a black shemale Jade fucking her buddy and promised to throw in a picture gallery with the beginning of that episode. Of course, You've all been good boys and girls, so here's your reward. Enjoy watching.
Jade the beautiful black shemale has a strong man Steve at her disposal (the one she'll screw without remorse later on) and the gallery shows the two of them getting into their fun sexual play. She comes into the room to find him playing with his cell phone but this sexy, dominant black shemale wants more. She wants him to pay close attention to her, to service her hot body and show her that he loves her. She demands that he prove his devotion and he's no madman so he happily starts working on her naughty body.
She pulls her hot black tranny cock out from under her tight teddy and feeds it to him. He opens wide and gleefully sucks on the fat schlong because he wants to show this sexy shemale dominatrix how much he loves her. The two of them are quickly lost in their lust and she lets him play with her tits and slowly strip away her dominant teddy to reveal the beautiful body that lies beneath.
Make no mistake though, this gorgeous black shemale is in full control of the scene throughout. She tells him what she wants and he does it because that's what good boys do. Towards the end of the gallery they're really getting into it as she literally feeds her black cock into his mouth and down his throat.
Go see Shemale Jade's new redesigned site and download the complete photo set and a video with that scene. Jade wants to show You what she's got and it's going to be really cool! 😉