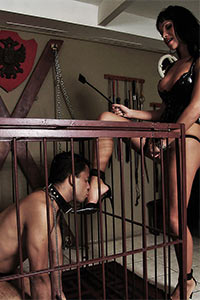 Carla Novaes from Shemale Revenge is a stunningly sexy shemale. She has big tits, long legs and a tight ass to go along with her thick cock. In short, she's the perfect sexual being…
There's at least one man that agrees with my assessment, and he lives in a cage in Carla's basement, ready to serve her whenever she desires. He willingly agreed to be her sex slave and now he lives the life of his dreams, sucking her cock and letting her fuck his ass anytime of day or night. This gallery begins as Carla wakes up her slave and tells him to get ready for her cock.
She likes to remind him of his place in the world, which is why she has him lick her feet at the beginning of each sexual session. She also likes him to suck her cock through the bars of his cage because it reinforces the notion that he has no free will, that he is hers to control as she sees it. After the cocksucking session Carla sits in a chair and has her slave straddle her. Her hard cock soon finds its way into his asshole and then he's instructed to ride her. After a long fuck his reward is a shot of her shemale cum on his face.
Isn't this a fantastic scenario? Visit Shemale Revenge to see the full juicy scene.