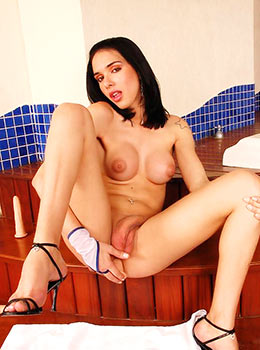 This shemale gallery is an oldie but goodie, I haven't dedicated posts to Bianca Freire for some time, but it's always a delight to see this hot shemale playing with herself for us again.
By the time this gallery kicks off this hot latina tranny Bianca has already gotten mostly nude. She's hanging out in the spa and the bath tub is just a few feet away. For this gallery she'll be staying dry, but when you see her cock you'll be thankful that she's not hiding it under water. Bianca is a girl that has to show herself off so we can all observe her beautiful body. She starts by playing with her dildo and the oral treatment it gets will make the rest of you jealous. How come I don't get to be that dildo is what I was thinking.
Sucking the dildo actually inspires her to get rock hard and when the camera pulls back you can see Bianca's big shemale cock! I can't stop admiring it, it's not huge, but it's the perfect size for fucking a tight asshole and what more do you need from a good looking slut. She plays with her shemale cock, but the gallery hits a high point when she takes the dildo and directs it into her shemale asshole. It slides deep in there and rests comfortably. Tell me you're not imagining it's your cock up in there. I know that's exactly what I was imagining when I saw it.