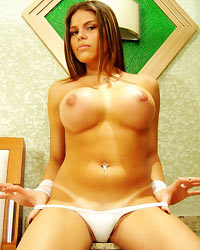 Lovely shemale Bianca Soares poses in mini skirt and shows dick.
How come that the most attractive tgirls from Brazilian shemales club have the name Bianca? (Of course You remember my previous posts about Bianca Freire). Let me introduce another hot and beautiful tgirl, Bianca Soares.
She has a pretty girlish face, full breasts with big nipples. They do look really tasty, and i would gladly suck on them. I bet so would You. 😉 After that Bianca would pull down her knickers and reveal her dick. And there's a nice schlong she's got! See for yourself.