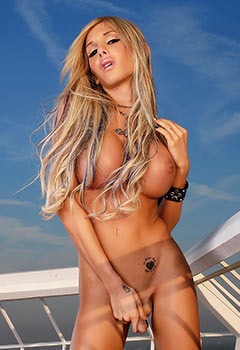 Kimber James is smoking hot. Anyone that loves hot shemales knows this. Today she's doing a picture gallery where she looks as beautiful as ever. You've probably seen her as a brunette before but it's possible this is the first time you've seen her as a blonde. It's a look that really works for the sexy shemale pornstar and those big tits riding high on her chest sure do look good in the black satin bra she's wearing. There's also a black ruffled skirt and some highly alluring heels that scream "fuck me!"
She's standing on the deck of a lovely home and the view behind her is an impressive one. She must be up on a hillside. Anyway, the view you're really going to appreciate is the one of her big tits and her plump tranny lips that would give you the hottest blowjob ever. Today she's solo and the sun is shining and giving her body a lovely natural look. She is a tempting tranny goddess and her striptease will reveal big breasts and a marvelously thin body.
It seems like maybe she's had her breasts re-enhanced. They actually look a little bit bigger. Her legs look as long and lovely as usual and her ass is phenomenal. She is an inspiration to us all and she will be sure to leave you aroused and thinking of the many ways you'd like to fuck her. I'm quite fond of the way her long wavy hair falls across her breasts. It gently brushes the nipples and it probably makes them feel all sensitive and sexy. We like that about her.
Come and see more of Kimber James at her own site!