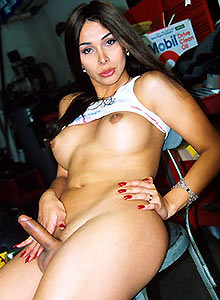 What do burly men that work at car service centers do when their working shift is over? To be honest, i don't know. What do beautiful shemales do in the same situation? I guess the same as this wonderful tgirl Vanity, they whip out their dicks, soiled all over with oil and grease, and jerk them off with enthusiasm 🙂
On a serious note, isn't Vanity is amazing? Every time i see her pics, they get me all excited, and not only me. Vanity is a picture of an ideal woman for many shemale lovers, just look at her pert round tits, her adorable belly, her beautiful face… Some people say they prefer these old photos over new ones because she's gone too far with plastic surgery, and her face is not that natural looking anymore, although more feminine. As for her cock, it is simply perfect, with lovely nutsack, big enough, and ideally straight. I'm sure your ass wouldn't mind to take something of that kind, would it?
In conclusion let me remind You that this wonderful picture set was brought to You by Joey Silvera, I suggest You visit them for more of Vanity. Also, check out the special forum thread dedicated to Vanity and take part in the discussion.