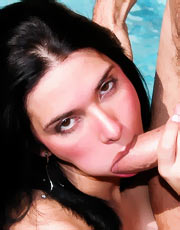 Over 300 visitors have voted so far on the pool about which tits are better for Bianca Freire – big or small ones. 57% of the voters thinks the bigger ones are way to go and 43% thinks, like me, that the smaller ones were better. In case you wonder what i'm talking about read my previous post and vote on the poll abut Bianca's tits.
This time i want to share with you a new gallery of this gorgeous tgirl, this time from Latina Tranny site (run by my friend Nicole Montero). Enjoy a gallery from Bianca's latest set where she and Arnol are giving each other wet loving blowjobs near the pool after which the lucky guy eats ass of Bianca. A really nice and colorful gallery, i must say.
As i can see from the list of updates, miss Freire is quite popular there, here are her latest sets from the list of updates:
07/11 – NEW girl on site Bianca Freire and Arnol getting and receiving a blowjob, set made by Nicole 😉
07/22 – Bianca Freire from Brazil shot by Nicole 😉
08/17 – Bianca Freire and Arnol blowjobs at the pool by the only one Nicole Montero 😉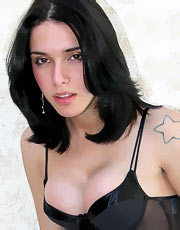 Visit Latina Tranny and watch more pictures of hot Bianca. They have some exclusive stuff of Bianca Freire and other latina shemales.
But hell, i love Bianca. Isn't this girl beautiful? 😉

Post tags:
Bianca Freire
,
latina
,
shemale
,
tranny
12 Responses to "Bianca Freire at Latina Tranny"