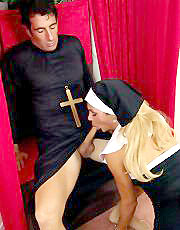 I can imagine how the dialog went on in a confessional booth…
"Forgive Me Father for I have Sinned…"
"Tell me about your sins, my child." (he didn't know she was a tranny)
"I've had fantasies about performing fellatio upon a man."
"I will worgive you my child. But first you must kiss the holy staff!"
She quickly glanced around and slid her hand under father's robe… And what a surprise, she discovered a throbbing empurpled priestly phallus there!
"Suck the Dick of Redemption!", thundered the Father. And the nun took his staff into her mouth and began to lustfully gobble it (feeling her own cock growing between her legs).
What a naughty confession it was!

Post tags:
blowjob
,
dick
,
sex
,
shemale
,
tranny
5 Responses to "Shemale nun fucks a priest"