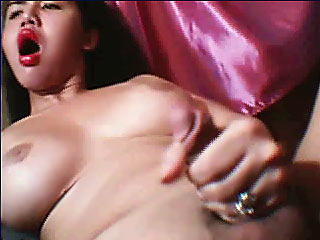 Xanimoniex is a sexy ladyboy webcam model and she puts on an excellent show, although if she were to simply sit still and let the camera float up and down her body it would still be a pleasure to watch her. She has one of the finest bodies I've seen on a ladyboy with a huge pair of tits and a nice cock. Her dick is totally beautiful albeit not too big and she gets it hard pretty easily. I know that she was erect for most of the show I did with her and I would definitely go back again. Her four star rating on ImLive is well earned.
She seems to be willing to do just about anything on camera, although I wasn't interested in seeing her do anything but play with her cock while the camera zoomed in tight on it. If you'd like she'd be more than happy to roleplay, dress in lingerie or costumes or tap into your deepest fetishes. The lovely lady is more than happy to bring your fantasies to life. All she needs is the chance to do so. She actually has a preview gallery up so you can see a few sample shots and get a look at those enormous tits.
Our webcam show began with the beauty sitting amongst sheets and pillows and looking very comfortable. She had her hand wrapped around her ladyboy cock and she was totally naked, which was just as I had requested. Her tits were big and although they're probably implants they looked real and that's all that I need to be interested and aroused. While she stroked herself you could see her tits moving and jiggling a little, giving further credence to the notion that they're perfectly crafted.
At first she stroked her cock while hiding her balls from the camera. I asked if she would spread her legs and let me see her hot shemale nutsack. She complied, moving one leg to the side while asking if I liked looking at her sweet sack. She even asked if I'd like to suck her cock, which of course I would totally loved to have done! Just the thought of licking that turgid shaft was enough to get me even harder and she must have known that. Naughty girl!
Throughout the video she changed the angle and zoom of the camera, going in tight on her hot cock so I could have a great up close view of her hand moving up and down the shaft. I tell you, there's nothing like seeing a furiously moving hand sliding up and down a tranny dick. Did I mention she had put bright red lipstick on those lips, making me think of them wrapped around my cock? Yeah, she looked fantastic and it was a great fucking show. Watch a fragment of a video sequence from our chat and go visit her in her room!

Post tags:
asian
,
cams
,
dick
,
jerk off
,
kathoey
,
ladyboy
,
movie
,
shemale
,
tgirl
,
tranny
,
video
,
webcams
9 Responses to "Big titted webcam ladyboy"