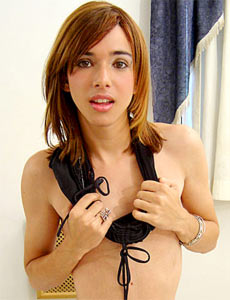 This time i'm going to show You a gallery of lovely Bianca Freire. I was shocked when i first saw her at Brazilian Shemales Club, she looks like a real pearl. She simply became one of my favourite TS models at first sight.
She has a cute girlish face, big naive eyes and pink sensible lips (maybe a little chubby). She looks so innocent that You may think she is a real girl who's never seen a male cock! Her little mole on a stomach, small titties and pierced navel look so touchy and delightful that you feel the urge to kiss Bianca's slender body all over. And her sexy short skirt makes you wanna reach into her panties to find a little virgin pussy there.
But what a surprise, her red knickers conceal a BIG RED SHEMALE COCK! Oh my, it is so big and curvey and it looks so wrong on her slim girlish body! But when she gets hard and aims her wonderful schlong at your mouth you just can't resist no more ang give in to a magic charm of shemale Bianca.
Get this awesome shemale dick of Bianca fully in your mouth now!

Post tags:
Bianca Freire
,
brazilian
,
dick
,
latina
,
posing
,
shemale
,
tranny
14 Responses to "Bianca Freire, the lovely shemale"