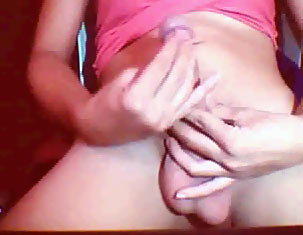 Those of you who's been following my adventures with shemales on webcams will be glad to know that yesterday I discovered another shemale beauty who knows her business very well and loves to put her cock into use. I didn't ask her name, perhaps it was Chai. She was wearing a sexy pink halter top and a cute pair of pink panties when the webcam show started. She said hello and then got right down to business, which I like. 😉
When she whipped out her cock it was already hard; I was impressed. She was about six inches long and nice and thick. She had big heavy balls too. All I could think about was having that sweet sack in my mouth. How dirty! She took a seat on a comfy red velvet chair and began stroking herself, running her hands all over her shaft and her balls.
She kept her private area pretty clean; I like my shemales clean shaven to allow for easy access and don't want anything getting in the way of my cock. The views of her asshole were marvelous. She spread her legs wide and ran her finger over the little pink hole, teasing herself and no doubt moaning in pleasure while doing so. I know I was moaning while stroking my own cock and watching her on her webcam. The more she played with her dick the longer it seemed to get. I thought she was fully erect but I guess not!
We were chatting a little and she asked me if she could see me, which just about blew me off my chair. For a moment I was deeply disappointed that I had no webcam. I appreciated her genuine sense of interest though. I don't know how many of you have experienced a live webcam show but one of the most erotic parts of it is the chat. You don't have to be eloquent when you talk to her but you should tell her what you want to do. If you want to suck her cock or her balls or even lick her sweet asshole you've got to let her know.
I let my ladyboy know that I was interested in sucking her cock and licking her balls. 😉 It was a simple exchange but I was harder after it was over. Part of the allure of shemale webcam shows is the fantasy nature of it. Put your mind to work and you'll be in the same room as the ladyboy, perhaps sucking her dick or getting fucked. The best webcam shows I've ever experienced are the ones where I have the most active fantasy. This cute babe drove me to that place.
Before the show was over I really wanted to see her face, which she had been hiding from me for most of the show. She complied with my request, although at first she only showed the bottom half. I could tell from that alone that she was a pretty girl. She had the most magnificent mouth, one that would clearly be gifted at giving head. Eventually the rest of her head came into frame as well and I was so pleased to discover that she was as beautiful a ladyboy as I was imagining. As I got closer to orgasm the talk got dirtier and eventually I shot my load. I love webcam shows and would like to thank SizzlingChaiXXX for spending some quality time with me. Join her in her room!
Clichk here to watch the short preview clip of our chat.