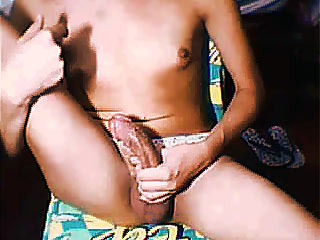 As another present for the New Year i'm going to publish a video clip from our chat with Chritsy. In fact, it was over a week ago that we chatted but I decided to postpone publishing my unbiased report because of Amy's week that I was running. Now nothing holds me back and i can finally introduce You this fine lady.
Christy is a 23 year old ladyboy with a big, curvy cock. When she registered at our forum I was very intrigued, so I went to see her page and imlive webcams and I was very happy that I did so, especially when she listed her fetishes as anal penetration and dildos, lingerie and stockings and role playing. That all sounded pretty good, along with her assertion that she's ready to go right after she cums. There were a few preview pictures of her dick and it looked like her shows were full of hard cock and pleasurable play. By the way, she measures seven inches long, which is awfully long for a ladyboy.
She was quite nice when the webcam show began, asking me what I wanted her to do and what I was interested in. Things officially began when she stood up and showed me the cute panties she was wearing. They were small and sexy and I could see a lovely bulge right where her cock was. I've always loved that bulge in ladyboys and sometimes I like it when they keep their panties on. There's something about the unknown that makes the imagination wander to wild and wonderful places. A little later she took up a sexy position on the bed and did a little more teasing.
It was a little like watching a talented stripper show off her best moves, but Christy wasn't interested in being a total tease. After all her moves in the bed she walked closer to the camera, pulled her panties aside and whipped out her ladyboy cock. I was pleased to see that it had already grown to an impressive size and looked to be just about full length. By the way, she's not kidding on her I'mLive page when she says that it's curvy. There's a tremendous bend in her shemale meat and it looks pretty cool. It helps that she's got a pretty large cock.
After dancing she settled into a chair in front of her computer and began stroking her cock. She still had her panties pulled to the side and now I could see her balls as well. They were nice and tight against her body, a sure sign that she was truly aroused. The nuts like to pull up nice and tight when they're getting ready to shoot a big load. I noticed that Christy was using almost no lube, which actually impressed me. Whenever a ladyboy can get off without needing a little extra help it's pretty cool and it says to me that she's a total sexpot.
Sometimes you get the feeling from a webcam performer that they're doing it purely for the money and they couldn't be less interested in sex or your pleasure or anything else. With Christy I got the sense that she genuinely gets off on having people watch her play online on her webcam and that the mere notion that I was watching her was enough to get her dick hard. One thing about her curved ladyboy penis is that it allows her cum to shoot on her stomach and tits with ease. When she finally blew her load it landed on her tummy and it looked thick and delicious. She even licked a little bit of it up for me. What a pleasurable end!
Christy awaits You in her Imlive room, pay her a visit, and You'll be as much impressed with her curved dick as I once was.
As usual, you can watch a short clip from our webcam chat that I captured for my readers.