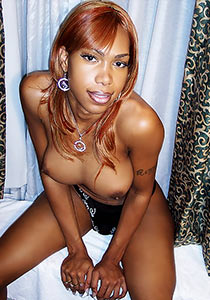 Take a look at this ebony goddess, sexy Jade and try to guess whether she has a cock in her panties. You know she does, but this is the kind of girl that can fool even the most experienced of men. She's exceptionally beautiful, she's got a great pair of tits and her ass is tight and tasty. She's got one of those booties that drive men wild.
The gallery begins with her posing in a sexy pink halter top. It clings tightly to her breasts, which are so perky they have no need for a bra. She doesn't want to stay cooped up in her tight clothes though, so she strips for us.
When her top comes off you get to see her naked tits and they're stunning. They were perfectly constructed by a gifted surgeon and I'm guessing Jade gave him a blowjob in thanks. Once her top is gone Jade is left to pose in her panties. If you look closely you'll see a bulge behind the sheer material; that's her cock waiting to be let loose. This gallery is all about appreciating her sexy frame though, so you'll have to become a member of her amazing site to see her swollen junk.