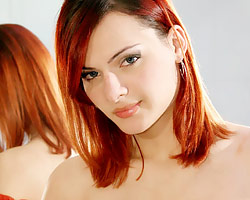 Meet pretty shemale Alexia in white stockings!
The summer is almost over and I, being a lazy bastard, rather fool away my time than do something useful. The last 2 or three days i have been busy writing a review for a shemale site Ladyboy-69, and oh my, it's really plodding. So, as a small compensaion, i decided to post a gally of one beautiful chick, shemale Alexia. I hope you're going to like her.
Just look at this picture and the rest goes without saying. Isn't she a hottie? She obliously loves herself too. When Alexia looks at herself in a mirror, she gets so horny that she begins to strip down slowly and her fat cock gets hard. Then she removes her skirt and this is when you can see her sweet shemale dick and ass really close 😉
Then Alexia migrates to a bedroom and, laying on a bed, spreads her legs apart ready to take your lusty cock!
Umm.. yum!