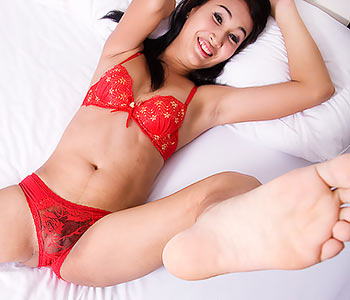 The camera is hovering above this sexy ladyboy and looking down at her as she lies in bed wearing a red bra and panty set. She looks hot and without question the panties are the sexiest part. It's the fact that they're sheer that makes them so wonderful. You can see her ladyboy cock behind the material and you know she's doing to whip that beautiful thing out soon enough and start playing with it. That's what beautiful ladyboy Melanie does!
The gallery brought to You by Ladyboy Wank is best suited for the guys that love a small ladyboy cock because hers can't be more than three inches long. It's really quite adorable and it fits perfectly with the rest of her slim and sexy body. When she slips off her panties you'll see the dick pointing right towards the sky and unless you're some sort of superhuman you'll no doubt be dreaming about how it would taste. Wouldn't you like to give it a few licks to see if the ladyboy dick is as tasty as you've dreamt?
Once she's fully naked you'll see that her body is really quite remarkable. She's a beautiful babe with plump lips, sexy natural tits and a tight body. Her ass is tight looking and would no doubt be a blast to fuck. Melanie the masturbating ladyboy strokes her little cockette and you're both going to have a good time. Go wank together with Melanie at Ladyboy Wank!

Post tags:
asian
,
dick
,
jerk off
,
kathoey
,
ladyboy
,
posing
,
shemale
,
tgirl
18 Responses to "Ladyboy Melanie with a small cock"