Today's guest post is written by my old friend, Indian tgirl Victoria (as a matter of fact she's been a member of our forum almost from the very beginning, although she's not posted much). I asked her to write about how one of her photo sets was shot and here's what she revealed.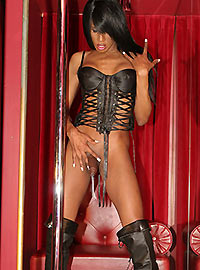 Hey everyone I am Victoria an East Indian shemale from Canada. This gallery shows off some shots from my photo shot in this hotel in Montreal. This hotel is like a sex hotel. Lots of people call it that name because it has these different sexy rooms with themes. This one room was colored red and had a hot tub and a stripper pole! Yes a stripper pole in the hotel room can you believe that!
We started shooting in my sexy clothes that I was wearing, some tight jeans, open toe shoes and a black corset that made my boobs pop up. I had my cock tucked away in my thong and hidden in between my legs. I love to pose for the camera and as we were shooting I did my best to look hot and my shemale dick grew bigger and bigger showing a bulge in my jeans. The camera man wanted my cock to get harder and ready for action so he grabbed it and rubbed it a little. At this time I pulled off my jeans to show off my ass to the camera and the photographer got a chance to shoot my transsexual butt from all angles. Then the camera turned to my front. I slipped out of my sexy black thong to reveal my dark shemale cock which was already hard then.
It was wet from just posing. I knew all you hot guys would be looking at me. That happens a lot when I get turned on, my dick gets very wet with precum. It can get messy when I don't expect it with my dick slipping out of my panties and rubbing up against my thighs. There can be so much precum that it seeps out of my swollen dick head and down my thighs!
Well I moved over to the stripper pole and spread my ass on the pole. I rubbed my body up and down the pole. It was hot to have a hard metal pole rubbing up against my shemale ass. At this point I was totaly ready to cum just from rubbing myself on the pole! I yelled at the camera man to get ready to capture my shemale spunk blast out of my cock. As you can see I cum a lot sometimes. It feels so nice when my swollen stiff cock lets loose a big load of hot sticky cum, especially when there is someone to watch or taste it. Wish you guys were there with me!
Thanks, Victoria, for that colorful story. Should you want to see more pictures and videos of her fantastic ass, visit her site, ShemaleVictoriaXXX, you're always welcome there!

Post tags:
asian
,
cum
,
cumshots
,
dick
,
posing
,
shemale
,
tgirl
,
tranny
14 Responses to "Shemale Victoria in a hotel room"