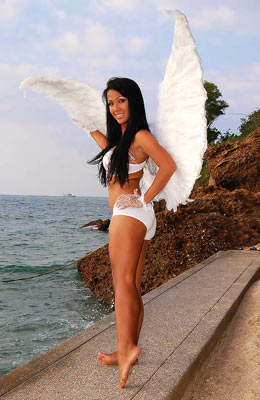 Finally it's Christmas time pals, and if You've been working hard all year, then got tired after Xmas services, wrapping presents etc, now it's time to rest and relax. I am unspeakably happy that even at holidays Your love for shemales isn't gone and you returned to our blog. Mind You, You've made the right decision!
For all of you who have been good boys, girls and tgirls, i'm hereby declaring a Christmas week at Trans Ladyboy dedicated solely to one of the most beautiful and sweet Thai ladyboys, Amy. Check back every day during this magical week to see the new updates. As for today's post, i'm going to open the series with the gallery of Xmas angel from Extreme Ladyboys. "An angel" could mean a million different things of course, especially since we all know that ladyboy Amy is such a good looking cutie. As it turns out she's actually posing as an angel in the pictures and she's clearly one of the most beautiful in the world. If this babe came down from heaven and said that she was going to escort you to your final resting place I don't think you'd have many complaints. 😉 She's wearing a huge pair of wings, white lace gloves, and a sexy satin and lace bra and panty set.
I'd like to take a moment to comment on her lingerie because it's stunning. The design is elegant, the fabric choice is arousing and the cut is perfect. Her tits look big and if you didn't see a little lump in her panties you'd have no idea this flawless model had a dick hanging between her legs. Amy is at the beach in her angel costume and the sunlight makes her look even more beautiful than usual. If you'd like to see more of this flawless beauty you can check her out at Extreme Ladyboys. There are lots of beauties waiting. And again, I'm wishing you a Merry Xmas.