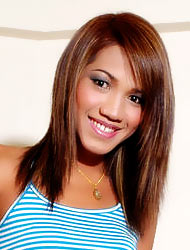 Seeing this cute girlish face, how many of you guys would think Nancy is a ladyboy? And even more, not just a usual small-dicked asian ladyboy, she's a really well hung one!
She will lift her jeans skirt and your eyes will literally fix on this huge bulge in her white knickers. Naturally, You can't wait until ladyboy Nancy pulls down her underwear and withdraws her giant schlong.
At this point You will realize that when i say she is well hung, it is really so! Oh my, what a dick Nancy has!!! Even in its limp state, it must be a 10-incher. When she starts stroking it, as if inviting you to do it for her, she looks straight in your eyes. And her charming gaze makes your nutsack shrink with pleasure and your cock ooze out precum.
Other galleries of this pretty well hung ladyboy Nancy can be found at good ole Ladyboy-Ladyboy site 😉