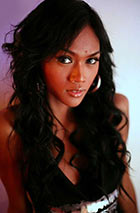 Happy Easter Sunday everyone! To those who will have egg hunting contest tonight i wish happy hunting. Those of you who rather prefer to read Trand Lasyboy blog, should also be very happy because I finally heard back from Rami (from lb-69) regarding that ladyboy Mint's interview I sent him long ago. I know, i know, it took them ages to actually sith with Mint and write her answers, since she's been travelling all around Thailand all that time. But anyway, here we finally are, with the long awaited answers to our questions.
---
Dear Mint,
We, readers of Trans Ladyboy, would like to thank you for your exceptional performance at LB-69 and countless hours of pleasure You have given to all ladyboy lovers. We'd like to learn a bit more about You, so please answer our questions.
What are your hobbies and interests in music, movies etc.
I like to watch funny and scary movies on DVD in my room when I have free time.
Tell us about Your dream date. What would it involve?
I think it will be a romantic dinner in classy restaurant etc.
What do you like and look for in your partner physically and emotionally?
I think my dream partner should be a tall, tanned skin guy, with sweet eyes and good attitude, polite etc.
Are you attracted to men, women, tgirls or all of them?
Only men. 😉
When and how did you realize you were going to be a tgirl?
When I was 3 years old I started to wear my sister skirt… 🙂
Are you going to stay pre-op or go the full way and get SRS?
I will stay pre op, cause I like to cum.
SSL: Wow, that's a big relief for all of us!
What turns you on and turns you off?
N/A
How did You start off in the porn industry?
I did few shots for ladyboy adult sites in 2004-2005, then Rami from Ladyboy 69 came to Phuket (where I was residing then) and convinced me to join the company to be exclusive star and relocate to Bangkok.
Do you like to watch porn? If so, what kind of porn do you prefer?
Yes I like to watch straight porn, where a guy is fucking a gal.
Are there any bad points in having such a big dick?
Sometimes it seems that guys only want my cock and doesn't care bout my personality.
SSL: don't blame us for that, hehehe
What's Your favorite sexual position? Do You prefer to be a top or bottom?
I like to be top and bottom as well, but best sexual position is when me lay down on my back and I can see the guy that is fucking me.
Do you have any fetishes and kinks? Like, foot fetish or masturbating in public?
I love to put my own cock inside my ass..:-)
What was your best sexual experience? Was it with a girl, tgirl, or guy?
Guys of course.
What are your long term future plans?
One day I wanna come back to my home town and have a big house and farm with my family.
SSL: Do you see she's giving you a hint? She wants to have a family. Who's gonna be that lucky one?
Thank You for taking your time to answer the questions and letting us know more about You. It was very enjoyable to speak with you.
😉