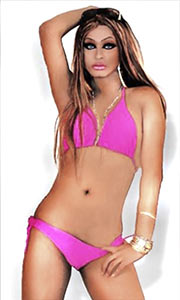 At her myspace page Shinata Sangha, a 20 y.o. tgirl from United Kingdom, claims to be the worlds most famous and successful South Asian Transgender women. I highly doubt that, however she did indeed make history as the first Indian tgirl to win a transgender beauty pageant in UK.
First, Shinata was crowned the winner of Miss Glamour Queen UK 2006 at 17; then won Miss UK Transvestite 2006 and finally Miss Transvestite 2008. Altogether, Shinata has won over 13 International beauty pageants from around the world.
Shinata's parents migrated to England when she was a child. She started watching pageants since she was four and it was then that she wanted to win Miss World crown. Her parents laughed it off then, however 13 yrs later their boy did become the first ever South Asian person of transgender to win beauty pageants. Presently Shinata is a successful model and earns enough to support her whole family.